Logitech Universal Folio tablet cover: a new easy way to get your office mobile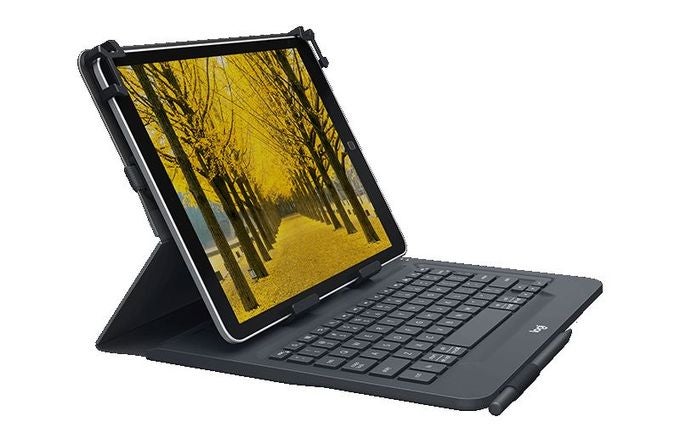 Working on productivity tasks using a tablet is not always the most effective way to do things right unless you have a good case with convenient keyboard. Fortunately, there are dozens of keyboard covers on the market and they can make the situation easier. But while many accessory makers prefer to tie their cases to specific tablets, Logitech goes a different way, by offering one case that fits many models. The advantage here is that you can use the same solution even if at some point you decide to buy another tablet which is about the same size.

The new accessory is called Universal Folio and as it's name implies, the cover should work with almost any tablet, at least if it's in the 9-10 inch space. This means that if you use any of the iPads, including 2,3,4,5, Air, and Air 2, or some of the Samsung Galaxy Tabs (like Tab S3, for example), a Galaxy Note device or Amazon Kindle Fire, the Logitech Universal Folio will probably do a good job. Just remember the case is designed to fit the 9-10" models only.

One of the main advantages of this product is, of course, its keyboard offering a "laptop-like typing" experience. The case has large keys with 2 mm move and makes use of the company's "4-point grip" that adjusts to accommodate tablets of slightly varying size. This grip promises to hold the tablet tight in place while you type, no matter if you are on the desk or on the move.
No need to worry about the battery life either. Logitech Universal Folio has its own power source in the form of two replaceable coin cell batteries. According to the manufacturer, they can keep the energy juice flowing to the accessory for up to 2 years before a need for replacements appears.
As a universal case, the new Folio cover connects with the mobile devices via Bluetooth. It is compatible with Android, iOS, and Windows operating systems and even offers a set of dedicated function and shortcut keys for them. All these make the case an interesting option to consider when you need to get your office mobile but a 9- or 10-inch tablet is all you have in hand. Logitech Universal Folio is now on sale in the US for $59.99.