Liveblog: Microsoft's new Surface event
11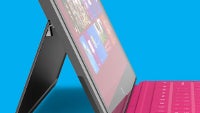 Microsoft hasn't updated its Surface line of tablets for a while, but it looks like this is about to change soon... like, in a couple of hours. The tech giant is holding an event today, where it's believed to introduce a new Surface tablet (or two).
Initially, it was expected that Microsoft will be showcasing the rumored Surface Mini tablet, mostly because the invite for the event read "Join us for a small gathering". However, more recent rumors actually claimed that instead of the Mini,
we'll be seeing the new Surface Pro 3 tablet
that's said to come with a touchscreen that has grown up from 10.6 to 12 inches.
Still, we can never know exactly what's going to happen, but one thing's certain - it's going to be fun. So, please feel free to join us for this liveblog, which will update you about what's happening at Microsoft's update as it unfolds. Alternatively, if you think that watching a livestream video directly from the event will be more like your style, simply
head this way to get your livestream
!
Event start time: 8 AM PT | 9 AM MT | 10 AM CT | 11 AM ET | 3 PM GMT | 5 PM CET