Two key Pixel 4 camera features will not be coming to older Pixel models
5
Before all of those Pixel 4 leaks started coming out during the summer, did you know that astrophotography was a word or even a
thing
? According to the Oxford Dictionary, Astrophotography is simply "the use of photography in astronomy; the photographing of celestial objects and phenomena." And with the second generation of Night Sight, Pixel 4 users can partake in this activity.
Night Sight is the feature that allows Pixel users to take viewable photos under low-light conditions without using the flash. With astrophotography mode, multiple exposures of the night sky are captured over a four-minute period with AI used to eliminate trails and tails created by the movement of the stars, moon or planets. And yes, those with the Pixel 3 or Pixel 3 X will receive this feature via an upcoming software update.
"Night Sight uses computational photography to take multiple exposures and combine them into a single image. It uses machine learning to segment the sky, selectively increasing contrast and denoising strength to create spectacular views of the stars."-Google
Today, Google released a new commercial for the astrophotography feature narrated by the late Stephen Hawking. Running at 70 seconds, it no doubt will be edited down to one minute for television. The tag line? "Google Pixel 4. Stars Included."
Of course, Google added a second rear lens to its back camera system for the first time with the Pixel 4. Besides the traditional 12.2MP primary camera (this year featuring a wider f/1.6 aperture so more light can enter) there is a 16MP telephoto with 2x optical zoom. However, photography on the Pixels has always been about software and that is not going to change. And speaking about the Pixel 4 camera setup,
Google confirmed via a tweet on Sunday night
that two features, Live HDR+, and Dual Exposure Controls will be found only on its latest handsets.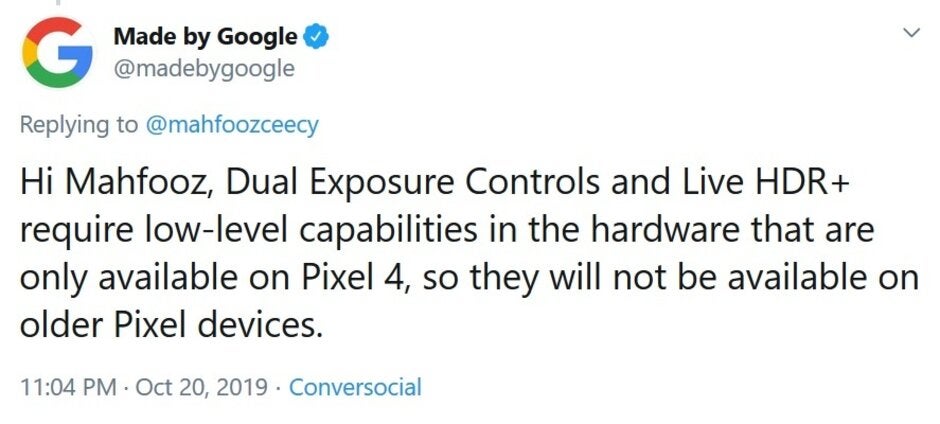 Google passes along the bad news; only Pixel 4 gets Live HDR+ and Dual Exposure Controls
Live HDR+ uses AI to approximate through the viewfinder what a photo will look like after going through the HDR+ process. The latter uses nine different exposures of the same shot and averages them out to reduce noises, improve colors and more. On older Pixel models, the viewfinder doesn't show the effects of HDR+ when setting up a shot. With Live HDR+, what you see through the viewfinder is close to what the final image will look like. Dual Exposure Controls give Pixel 4 users the ability to customize a photo with a slider that changes the brightness of a photo and another slider that controls shadows.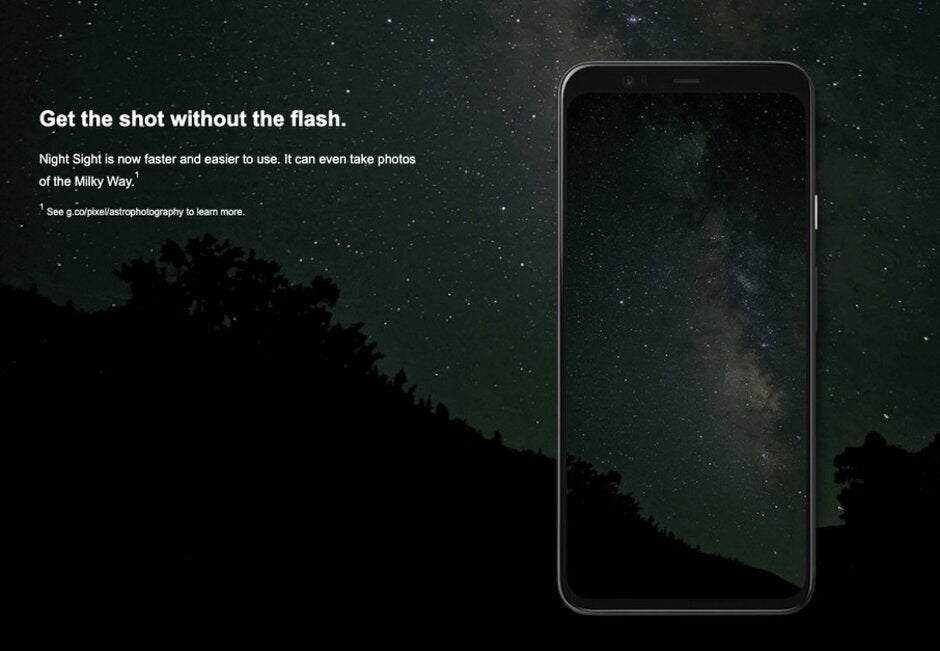 Google promotes astrophotography