Link Bubble app review: read-it-later made easy across all Android apps
1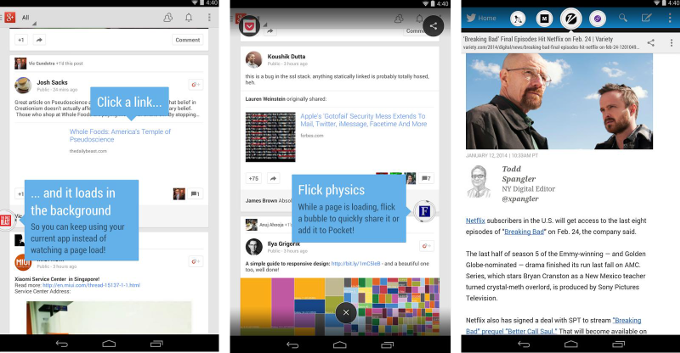 | | |
| --- | --- |
| Developer: Chris Lacy | Download: Android |
| Category: Personalization | Price: Free, $4.99 PRO version |

There is a new way to multitask on Android, and it is called Link Bubble. This app is fresh out of the oven, and already amassing critical acclaim for the way it solves one browsing dilemma you didn't even know you had. Link Bubble opens links you tap on in the browser or 3rd party apps, and loads them in the background, while the only thing visible from from the app is a small circle you can put anywhere on the screen, and call it when you need to revisit the info. Think of it like an always-on read-it-later type of app.
Link Bubble keeps a log of everything you've tapped on, so you can quickly return to the list when you have more free time, and soak in the info. It also tags embedded YouTube videos, and gives you a shortcut to load them in the stock YouTube app instead. The beauty of Link Bubble is that it can work across all your apps, as long as you buy the PRO version. When you are on Twitter, for instance, and tap on an Instagram link there, there won't be a full browser window open that loads the picture, but a neat bubble that you can preview and flick out of the way.
Those flick physics are another nice thing about Link Bubble, as they let you immediately share a link's content, close it, or add it to your read-it-later service of choice (like Pocket), with the flip of a finger. The PRO version opens links in apps other than the browser, and lets you load many of them at the same time. The downside is that the paid Link Bubble PRO is pricey in app terms, at $4.99, though you might deem those five bucks totally worth it, once you use it for a while.
With a developer like Chris Lacy, who is behind apps like Action Launcher, Link Bubble was bound to be innovative, and we can confirm that once you try it, you'd wish that it was an integral part of Android. The ability to effortlessly save stuff for reading later across all of your apps is a godsend with the information glut we live in. Link Bubble keeps it, sorts it, and manages to be under your fingertips at all times, while keeping out of the way in the process. What else can you want from a brilliant multitasking app.
Pros
Handy read-it-later service that works across all apps
Instant link sharing
Clean and simple interface
Cons
Pricey PRO version needed to unleash the full potential
| | |
| --- | --- |
| Developer: Chris Lacy | Download: Android |
| Category: Personalization | Price: Free, $4.99 PRO version |