Limbo is available on the App Store
7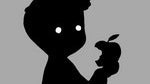 It's time for you to dip in an atmosphere you've never been in so far. Let us put it that way:
of course
that $4.99 is worth it for the newly released indie game
Limbo for iOS
! Just look at the reviews that Limbo has received since its release for PC in 2010. In fact, the price is twice cheaper than its PC or console versions, yet the game feels almost identical, and by that, we mean that
it toys with the player's emotions
.
Limbo is like nothing you've played before. You are this kid, that somehow just wakes up in the forest. The graphics are
dark and creepy, but in a beautiful way
. Backgrounds are magnificent.
The sound is exquisite
. You then set sail on a journey, which we do not want to spoil. Limbo is a 2D side-scroller with numerous mini puzzles along the way: you will run into traps, huge spiders, creepy habitants, abandoned hotel signs, dams, and for a game that looks so simple, you will suffer some
nasty, wicked deaths
. Everything, and we do mean
everything
about this game is exceptional.
Make sure you grab it for your iOS device from the source link. You'll be thanking us later.
source:
iTunes
,
Limbo