Like hugs? Like Facebook? Like getting Likes? Try this on…
15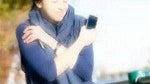 If you are the type of person that craves every bit of interaction on Facebook, you will probably be interested in seeing if this garment ever makes it to market. We are not quite sure what is being taught at MIT nowadays, but Melissa Chow, one of the creators of the Like-A-Hug vest, is channeling that talent to bring social media interaction to an interesting level.
The Like-A-Hug vest responds by inflating, providing the gentle embrace like that of a hug, when someone "likes" a photo or status update on your Facebook wall. Yes, this vest hugs you. The vest is interactive too, if the sender of the "like" that hugged you also has a Like-A-Hug vest, then you can return the hug by squeezing your vest in return, which also deflates it. The person on the other end gets a "hug" as well.
"Like-A-Hug is a wearable social media vest that allows for hugs to be given via Facebook, bringing us closer despite physical distance. The vest inflates when friends 'Like' a photo, video, or status update on the wearer's wall, thereby allowing us to feel the warmth, encouragement, support, or love that we feel when we receive hugs. Hugs can also be sent back to the original sender by squeezing the vest and deflating it." – Melissa Chow
Of course, this brings up all sorts of options for people. Why touch someone else to hug them? Just log-on and send "likes" to your friend's accounts and enter into a vicious, endless "hug" circle with your jackets. This would be just the trick for someone that needs to know that their status updates are "liked" all the time. On the other hand, there are a lot of people that might run into problems with a product like this, such as famous people who would receive thousands of "likes"…er…hugs per day.
source:
The Atlantic