Law firm investigating RIM for possible violation of securities laws
2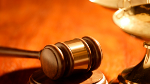 As we
reported
, there is speculation by investors that RIM will end up in the arms of a suitor because of its dropping stock price. Well, to add insult to injury, an Atlanta law firm named Holzer Holzer & Fistel, LLC has started an investigation to see whether or not RIM has
violated
securities laws by giving out intentionally
false
and
misleading
statements from December 2010 through April of this year. The statements dealt with RIM's aging lineup that has been weighing down the Canadian firm's earnings.
Usually, in a situation like this, after the investigation the law firm starts a
class action lawsuit
on behalf of those who held the stock during the period of time when the misleading statements were allegedly made. Unfortunately, the law firm usually ends up the big winner in these cases.
In March, Holzer Holzer & Fistel, LLC announced a similar investigation into Palm. The law firm was looking at statements made by the company before the manufacturer was purchased by HP.
source:
BGR