Latest HTC video shows you how (not) to upgrade your old phone
12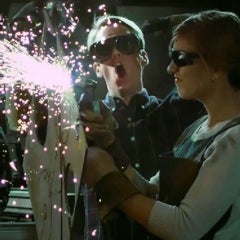 Upgrading your smartphone is usually a joyful moment, especially if you have the money to get the latest and greatest device to replace your old one. HTC recently uploaded a video that shows us how fun it can be to upgrade an old phone. Fun, and yet not necessarily rewarding.
As you'll see in the video - embedded below - someone at HTC is helping a Sprint customer upgrading her
HTC Evo 4G LTE
(an ex-flagship from 2012).
The upgrade process seems to be heading towards her getting a brand new
HTC One (M8)
- with an all-metal body, BoomSound speakers, and a Duo camera. Still, the final result doesn't really satisfy the owner of the Evo 4G LTE - we can only assume that she's not a big fan of steampunk.
The customer eventually chooses to upgrade her handset the classic way: in a store. At the end, HTC says that upgrading is easier than you think, and invites you to visit its official website to check its newest models. You may not even need all the gear presented in the video for upgrading.