Landmark?: iPads now outnumber Linux devices browsing the Internet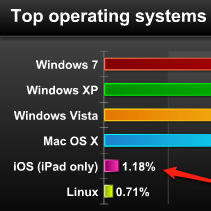 Does this really count as a landmark? Regardless of what you might think of Linux, it's pretty amazing that any 'alternative' system like a smartphone or tablet can beat a traditional operating system.
In the U.S. in April, iPads made up 1.18% of devices on the web, compared to Linux's 0.71%
.
What's most amazing about this statistic is that it was for
iPads
only; no iPhones or iPods. So we can only imagine how much wider the iOS-Linux margin would have been had it included the full Apple mobile fleet.
And the iPad-predominance wasn't just in the iPad's home market. In the U.K., the iPad bested Linux with 0.94% to 0.74%. In Canada, the iPad had 0.91% versus Linux's 0.76%. The greatest margin was in the iOS-obsessed
Australia
, where the iPad had 1.19% to Linux's 0.66%.
Considering Apple's tablet is barely a year old, this accomplishment is pretty amazing. But one problem with Apple's success is that people become desensitized to it.
So let's take a step back from the Android-iOS rivalry, and just appreciate that a single mobile device has bested a desktop OS
.
source:
Pingdom
via
TUAW