LTE and HSPA+ versions of BlackBerry PlayBook pass FCC testing
1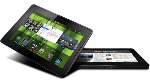 It's hard to say that the BlackBerry PlayBook has been a success by any standard, but it seems that RIM may think that has more to do with the fact that there has only been a WiFi version so far, rather than any problems with the lack of functionality in the original software. Still, the PlayBook 2.0 software fixed most of the issues we had with the software.
Now, we're seeing 3 different variants of the BlackBerry PlayBook passing through FCC testing, all with cellular radios. There is a variant, theoretically for AT&T, with the 700MHz LTE radio necessary for the carrier's network as well as the 850MHz HSPA+ and 1900MHz UMTS bands. Another variant, theoretically for Verizon, has an EV-DO and LTE band 13 radio, which would work nicely with that carrier. The last variant could be a T-Mobile model, or just an international version, as it has a radio supporting the 850MHz, AWS, and 1900MHz UMTS bands.
We say "theoretically" for all of these possible carrier releases, because FCC certification doesn't necessarily mean that the devices will actually be released into the market. All 3 variants are also rated for NFC, which would be new for the PlayBook as well.
Recommended Stories