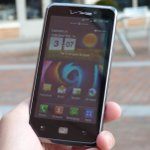 Seeing a majority of its rivals pushing out its second-generation 4G LTE devices for Verizon Wireless, LG seems to be the last of the major mobile manufacturers to come out with its offering – the
LG Spectrum
. We've spent some good time checking out the 4G LTE and dual-core processor packing smartphone
back at CES
, but this time around, we're checking out the final retail version of the handset, which so happens to be available for purchase right now for the oh-so adorable on-contract price of only
$199.99
.
As we've mentioned in our hands-on time with the LG Spectrum, it closely resembles the LG Nitro HD for AT&T, both inside and out. Interestingly enough, its retail packaging is receiving the same all-black treatment found with previous 4G LTE smartphones like the Motorola DROID RAZR, HTC Rezound, and Samsung Galaxy Nexus. Even before ripping out the handset from its box, we're not expecting a whole lot accompanying the handset in terms of additional accessories – and rightfully so, our feelings are confirmed. Inside, we're treated to the usual set of documentation, wall charger, and microUSB cable, which are the standard things we're accustomed to seeing at this point.
After getting acquainted with its hardware specs again, it's quite obvious that it doesn't necessarily bring forth anything relatively new. Well, if we'd have to pick, one of the biggest standouts for this smartphone is its 4.5" True HD IPS display, which features that prominent resolution of 720 x 1280. Unlike the Galaxy Nexus, which relies on a PenTile matrix arrangement, the LG Spectrum utilizes the more favorable
RGB arrangement
, and on top of that, its IPS panel is better able to produce the more natural looking colors as well. Other noteworthy specs also includes the 1.5GHz Qualcomm Snapdragon S3 processor it's packing under the hood, though, it's nothing appealing compared to some kind of quad-core CPU.
Alas, the other major thing going for the LG Spectrum is its absolute competitive price point of $199.99 with a 2-year contract – and no, that's not the price it's going to be flaunting months from now. Rather, that's the pricing we're seeing right from the start, thus, breaking that that reputation we've been seeing with top-shelf smartphones of late from Verizon's camp. As usual, we'll be testing it out to see how it's able to differentiate itself from the other crop of high-end 4G LTE smartphones out there. Expect our review soon!