LG K7 (a.k.a. Tribute 5) hands-on
0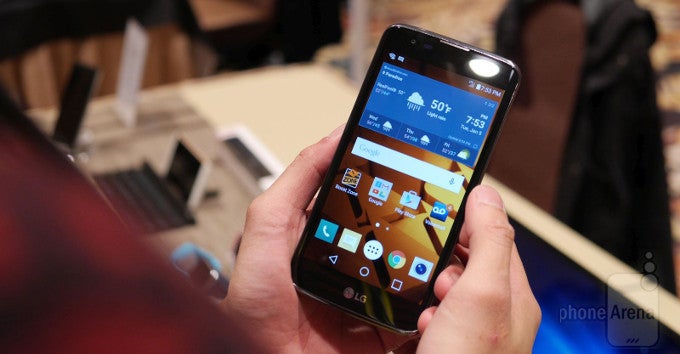 If you were hoping for a major LG unveiling at CES 2016, you were likely disappointment by the company's show yesterday. Not only did the company omit smartphones from its presentation, which instead focused on its TV and home appliances businesses, but the phones that it nevertheless brought to the show are anything but exciting. We had the opportunity to spend some hands-on time with the less inspiring one: the entry-level LG K7, which will debut on Boost Mobile's network in Q1 as the LG Tribute 5.
Design
An entry-level device the K7 may be, but that doesn't mean today's highly competitive low-end market allows for too many shortcuts. To that end, the K7, or the Tribute 5 if you will, was fashioned using signature LG design language. So rear-mounted volume and power keys? Check. Arched, polycarbonate back? Yep. A fine mesh texture? Got it.
Overall, the pebble-shaped LG K7 is a likable device through and through. No, in the context of much classier, much pricier smartphones, it won't win any hearts, but neither will it offend with its looks. If anything, it kind of reminds us of the LG G2, save for the slightly less aggressive rounding with the corners. In all, it's more than reasonable enough considering the consumer segment it's going after.
Display
5 inches, 480 x 854 resolution. That's the LCD panel you're getting with the LG K7, and yes, this sounds underwhelming if you forget that it's intended as a device that will usher laggards or people on a budget into the smartphone age. Still, in our experience, we found the display to be of decent quality, with rich color reproduction and good viewing angles.
As you can imagine given the class of the panel, there's nothing fancy covering it. No Gorilla Glass as far as we know, and it's unlikely that Corning (the maker of GC) had anything to do with the K7.
Interface
While the Boost Mobile variant of the K7 (i.e. the Tribute 5) will come pre-loaded with carrier bloatware, both the regional and international versions will be based on Android
5.1
.1 Lollipop. An update to the latest version of Android, 6.0 Marshmallow, is unconfirmed (and probably unlikely), but you can expect LG's proprietary skin to be available with both. Still, expect it to be curbed variant of the overlay, without all the bells and whistles available with the flagship G line.
Processor and memory
On the processor front, LG kept mum about the exact make of the system chip, though we do know that we're dealing with quad-core silicon clocked at 1.1GHz. Given these clues, however, we can speculate that we're likely looking at one of Qualcomm's Snapdragon 210 SoCs, which comes with a built-in Adreno 304 GPU.
Onto memory, we've got some disparity between the Boost Mobile model and the international one, and it's not clear at this point which one is which. Still, one is supposed to come with 1GB of RAM and 8GB of storage, while the other should arrive with 1.5GB of RAM and 16GB of storage. Both should have support for microSD card expansion.
Camera
As with memory, the built-in cameras of the K7/Tribute 5 are similarly confusing. From what we're told, one of the two will come packing an 8-megapixel main snapper, while the other will contend itself with a 5-megapixel unit. As far as we know, buyers will be treated to a 5-megapixel selfie cam up front, which is beyond what we'd expect from an entry level device. That is, at least on paper—a 5-megapixel selfie camera can still be pretty terrible.
Expectations
If previous generations of LG's Tribute line for Boost Mobile are any indication, the Tribute 5 will end up occupying the $99 slot with the carrier. All things considered, and especially if Boost Mobile's ends up to be the slightly more powerful model of the two, the duo isn't offering a bad deal as long as you want to sign with the MVNO.