LG G7 ThinQ vs Google Pixel 2 XL: first look
9
Success has gone towards LG indirectly, thanks in part to its most recent collaboration with Google on delivering the larger to the two new Pixel smartphones back in the fall. Even though its actual branding was nowhere in sight on the phone, the Korean company is still feeling some of the residual notoriety thanks in part to the Pixel 2 XL's amazing performance. Now, though, it appears as though the G7 ThinQ is going to surpass LG's previous collaboration with Google by delivering an outright monster that can now capture those sweet portrait shots and much more!
Design
The Pixel 2 XL's design isn't for everyone, as its appeal isn't there right from the onset with its unusual two-toned back, but rather, it's something that's acquired over time. In comparison, the mostly glass surfaced G7 ThinQ has a more modern appeal with its design, which is also slightly shorter and narrower in size – making it just a smidgen more compact than its esteemed rival. When the two phones are placed side-by-side, the G7 ThinQ with its metal meets glass construction still exudes a more elegant facade just because the Pixel 2 XL's rather odd quirks can make it tough to like initially.
Even though both smartphones feature rear mounted fingerprint sensors, USB Type-C ports, dedicated power buttons, and volume controls, there are still more particular qualities about the G7 ThinQ's design that we prefer. For starters, its features a better IP68 rating for water resistance – versus only the IP67 rating with the Pixel 2 XL. In addition to that, we really appreciate that LG has somehow managed to throw in a 3.5mm headphone jack for convenience when the situation arises for listening to something with a wired pair of headphones.
Display
Over on the specs side, the LG G7 ThinQ packs a 6.1-inch QHD+ (1440 x 3120) FullVision Display – while the Pixel 2 XL sizes up with a 6-inch QHD+ (1440 x 2880) pOLED Display. Knowing what's entailed with their respective displays, we really have very little complain because they're exquisitely detailed and offer other several great qualities. Although, in our quick assessment, there seems to be just a smidgen more brightness found with the G7 ThinQ's display, which interestingly enough, is reportedly to achieve a peak brightness output of 1,000 nits!
Now, what makes the G7 ThinQ's display stand out is the fact that it's sporting a notch around the earpiece – whereas the Pixel 2 XL, even with its slightly thicker bezels on the top and bottom edges of its display, is more uniform looking. There might be some of that initial distraction due to that notch, but it can be set to mask it through the display settings.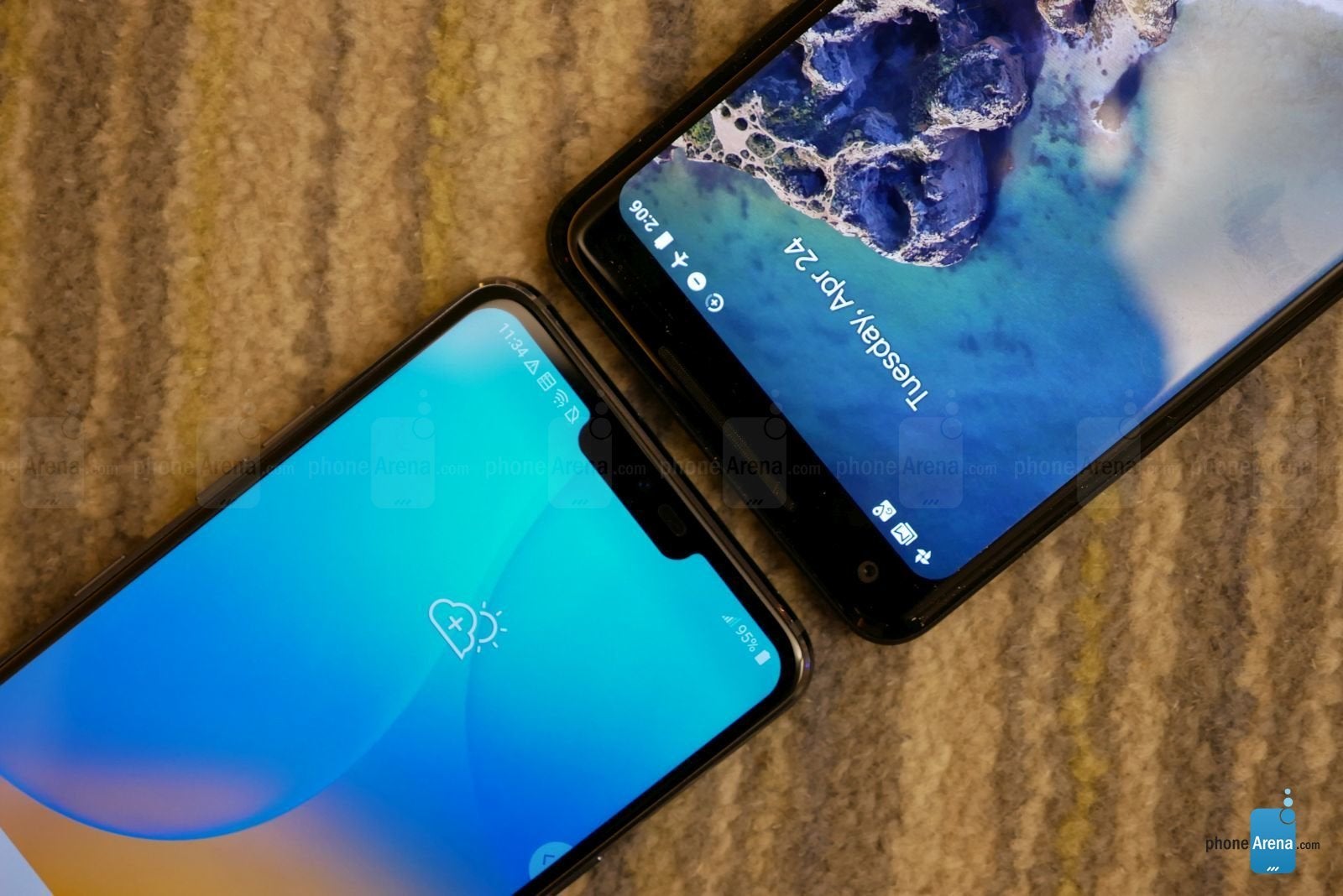 User Interface
Needless to say, there's a lot going for the Pixel 2 XL when it comes to its experience, seeing that we're given the most up-to-date Android 8.0 experience. And being a Google branded smartphone and all, it'll reap the rewards and benefits of the latest software updates. In contrast, LG has added a few tweaks and features to its customized Android 8.0 Oreo experience with the G7 ThinQ. While both phones function on the same level when it comes to the core stuff, the G7 ThinQ gets some added arsenal in the form of some integrated AI features that are mostly related to the camera, voice integration, and home appliances.
When it comes to processing power, it appears as though the two are equipped to handle even the most intensive stuff. For the Pixel 2 XL, it's powered by last year's Qualcomm Snapdragon 835 SoC coupled with 4GB of RAM – while the LG G7 ThinQ is armed with the newer Qualcomm Snapdragon 845 SoC with 4GB of RAM. Despite the obvious that it's running the last-generation Snapdragon processor, the Pixel 2 XL's performance continues to be rarely tested, as it's one of the most responsive phones around, evident still with the buttery responses to produces with navigating around the interface. Yes, the G7 ThinQ is just as good from what we can see so far, but even though we have a feeling that it'll outclass its rival in many benchmark tests, the Pixel 2 XL is still no slouch with its overall performance. Both handsets are available with 64GB of internal storage, but it's only the G7 ThinQ that can be expanded with its microSD card slot.
Camera
One of the amazing aspects about the Pixel 2 XL is that it captures some of the best-looking photos around with its single 12.2MP camera with an f/1.8 aperture. Meanwhile, the G7 ThinQ is treated to a pair of 16MP sensors broken down to a main 71-degree f/1.6 lens and a wide-angle 107-degree f/1.9 one. Both phones can still produce those sweet portrait shots, but it's incredible how the Pixel 2 XL continues to astound us with its quality – and that's despite only achieving it through software and its single camera. However, the G7 ThinQ can achieve that and much more because of its secondary wide-angle camera.
When it comes to video, however, there's just no comparison whatsoever here because the G7 ThinQ is just a beast of a phone when it comes to it – whereas with the Pixel 2 XL, it's really elementary in what it can do. Sure, its actual quality is still commendable, but the G7 ThinQ adopts many of the video recording aspects of the V30. Essentially, it features the same extensive manual controls and Cine modes that make it such a versatile tool for content creators. And lastly, the AI integration with the G7 ThinQ allows the camera to adjust to the scene to yield the best results.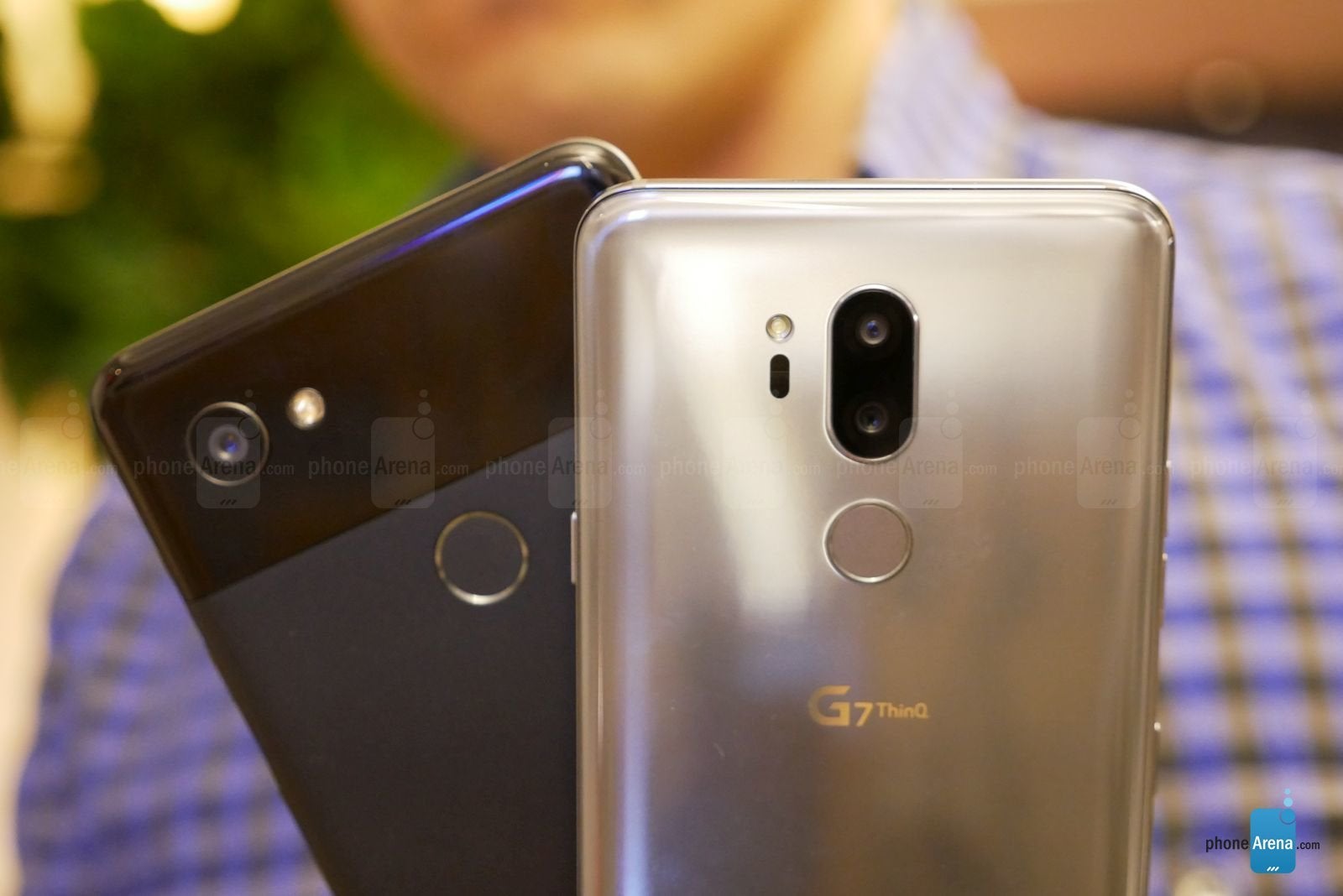 Battery
When it comes to battery capacities, it's the Pixel 2 XL that edges out with its slightly larger 3520 mAh battery cell – versus the 3000 mAh one in the G7 ThinQ. Even though it's an advantage on paper for the Pixel 2 XL, it's anyone's guess as to whether or not the G7 ThinQ will be able to match its sibling's longevity. However, the G7 ThinQ benefits from having the convenience of wireless charging.
Expectations
In the landscape, the Google Pixel 2 XL has already amassed acclaim from critics and consumers, proving yet again that the Google branded smartphone has clout amongst the masses. When it comes to simplicity and straightforwardness, there's no arguing that the Pixel 2 XL is king among Android smartphones, especially harnessing all of Android's vast ecosystem and integrations. When it comes to pricing, though, the $850 starting price for the Pixel 2 XL is no doubt costlier than the traditional flagship.
As for the LG G7 ThinQ, it most certainly possesses an intriguing package – offering a revamped design, sweet dual cameras, and a heavy focus on AI integration. Compared to its esteemed rival, the G7 ThinQ appears to offer more, like its inclusion of a headphone jack, vast controls for photo and video capture, better water-resistant construction, and even wireless charging. Price wise, it'll be interesting to see how LG prices its flagship, but we're crossing our fingers that it'll be a little below than the Pixel 2 XL, which would really justify its worth even more!