LG G6+ (with 128 GB of storage space) now unofficially available in the US
11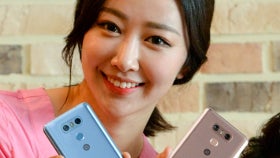 Last month,
LG announced
an upgraded version of its
G6
flagship smartphone - the
LG G6+
(or LG G6 Plus, if you will). Unlike the regular G6, which has 32 GB of internal memory (at least in the US), the G6+ comes with 128 GB of storage space.
While the G6+ is already available to buy in South Korea, LG didn't say anything about the handset's release in the US, and it's likely that the company doesn't plan to officially launch this upgraded G6 stateside. However, if you just must have an LG G6+, you can now order one via Amazon.
A third-party Amazon seller is offering the international version of the unlocked LG G6+ for $699, in either blue, or gold. Mind you, that's about $200 over the price of the US variant of the unlocked G6. Another thing to keep in mind is that this G6+ unsurprisingly comes without US warranty.
In addition to 128 GB of internal memory, the LG G6+ features a Hi-Fi DAC (digital to analog converter) for enhanced audio quality. Moreover, customers should find a pair of premium B&O PLAY headphones in the box.
The unlocked LG G6+ that's currently available through Amazon is compatible only with GSM/LTE carriers like AT&T and T-Mobile, so it will not work on CDMA/LTE carriers like Verizon and Sprint. If you wish, you can order the phone via the source link below.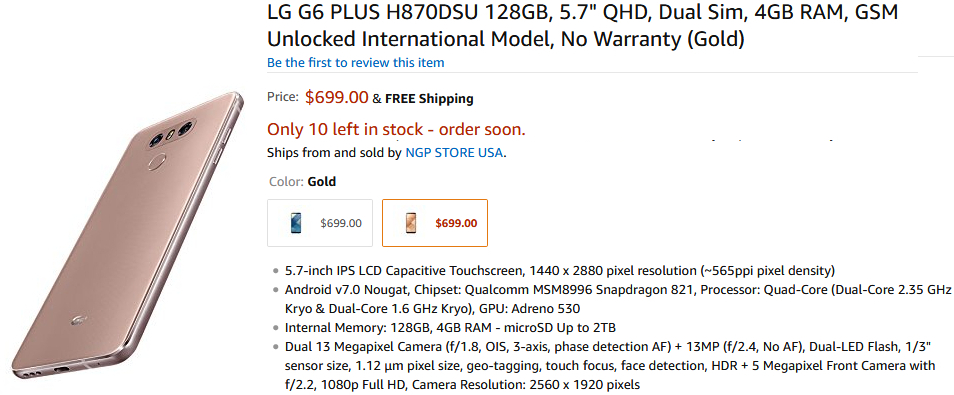 source:
Amazon