LG G3 could be a Samsung Galaxy S5 killer - according to Korean media
65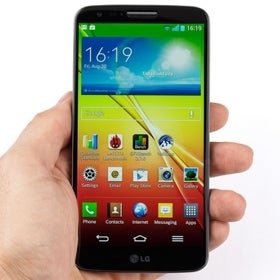 Samsung will host a
new Unpacked event at MWC
on February 24, and it appears that the company is getting ready to showcase its long-rumored
Galaxy S5
smartphone then. According to a report from earlier today,
the S5 will not feature
a Quad HD (1440 x 2560 pixels) display, and neither an iris scanner. But that doesn't mean it can't be a great device, right?
Whatever new features the Galaxy S5 is bringing, it's pretty clear that Samsung will announce it before LG gets to introduce its next-gen flagship smartphone: a G2 successor expected to be called
LG G3
. Sure enough, LG confirmed that it would announce a new
G Pro 2
later this month, but this is a 5.9-inch (or 6-inch) phablet and it doesn't seem to be a true Galaxy S5 competitor. So when will LG's next flagship smartphone arrive? Well, ZDNet Korea has it that the G3 could be announced as soon as May. This is in line with what we've previously heard about the handset. Unlike the Galaxy S5,
the G3 may sport a Quad HD display
.
As you may remember, LG revealed
a 5.5-inch Quad HD IPS LCD panel
back in August last year - so the company had plenty of time to work on a smartphone that utilizes such a screen.
ZDNet says that the G3 may be viewed as a "Galaxy S5 killer" - at least in South Korea, the home country of LG and Samsung. Of course, it's way too early to tell which of the two handsets will be better (not to mention that
better
can mean different things from user to user). For now nothing is confirmed, so both Samsung and LG could surprise us with the features and design of their new flagship smartphones.
Note: the device pictured above is the LG G2.
source:
ZDNet Korea
(automatic translation)