Katy Perry loses 2.8 million followers after Twitter stops including suspicious accounts in the total
12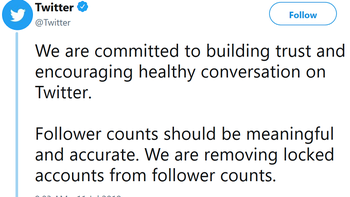 In the wake of U.S. intelligence reports that Russia meddled with the 2016 U.S. election using fake social media subscriptions as one of its tools, Twitter started to lock suspicious accounts and did not count them toward the calculation of its daily and monthly active users. An account is considered suspect if it generates a large amount of activity after months of being quiet. This past week it stopped counting these accounts toward the total number of Twitter members' followers.
Pop star and American Idol judge Katy Perry saw the number of her followers on Twitter shrink by a massive 2.8 million users on Thursday. Because Perry has the most followers of any Twitter user with more than 107 million prior to the purge, the 2.8 million followers that disappeared from her account represented just 2.6% of the total.
The purging of locked accounts negatively affected President Donald Trump, who lost 300,000 of his followers. The current data shows that there are still 53.1 million Twitter accounts following the president. Among prominent and verified accounts that were barely affected, tech executive Elon Musk made out the best. Musk had only .3%, or 71,000 of his followers erased by Twitter. That leaves him with 22.2 million Twitter accounts following his tweets.
"Most people will see a change of four followers or fewer; others with larger follower counts will experience a more significant drop. We understand this may be hard for some, but we believe accuracy and transparency make Twitter a more trusted service for public conversation. Though the most significant changes are happening in the next few days, follower counts may continue to change more regularly as part of our ongoing work to proactively identify and challenge problematic accounts.
If we detect sudden changes in account behavior, we may lock the account and contact the owner to confirm they still have control of it. These sudden changes in account behavior could include Tweeting a large volume of unsolicited replies or mentions, Tweeting misleading links, or if a large number of accounts block the account after mentioning them. We sometimes lock an account if we see email and password combinations from other services posted online and believe that information could put the security of an account at risk — so we require accounts to change of their passwords for protection. Until we confirm that everything is ok with the account, we lock it, which makes them unable to Tweet or see ads."-Twitter
On a percentage basis, the most affected account among the top 100 by followers was the company's own @Twitter account. The latter saw 12.4% of its followers disappear overnight. The account still has 55 million followers. Twitter says that the median decline in followers among the top 100 was 734,000 accounts. The average number of followers lost by all Twitter subscribers was four.