Jumbled text messages could be the sign of a stroke
9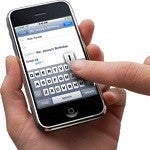 Very often, it is easy to attribute partially garbled text messages to a tragic failure of your smartphone's spelling correction feature. It happens enough that there are sites dedicated to the funny things that can happen when it goes really bad.
Leave it to technology to being able to provide a gauge of activity without any dedicated apps, like your health. A man who lives in the Boston area received two confusing texts from his pregnant wife. The first one said, "every where thinging days nighing" and the second one said, "Some is where!" Is that possible to create with autocorrect or word prediction? Maybe, but the man's 25 year old wife had her autocorrect turned off. He rushed her to the emergency room and doctors were able to determine, in conjunction with other symptoms of confusion and poor motor coordination, that she was having a stroke. An MRI confirmed the diagnosis, the woman was treated and made a full recovery.
Three Harvard Medical School doctors have coined a word for the condition: "dystextia." The case of the pregnant stroke victim was published in the Archives of Neurology, citing that "the growing digital record will likely become an increasingly important means of identifying neurologic disease, particularly in patient populations that rely more heavily on written rather than spoken communication."
Now, before you start dialing 911, 999, 112 or whatever the emergency numbers are in your locale, the medical community obviously wants to point out that using "dystextia" alone as a means for detecting a stroke would produce a monumental amount of "false positives." Of course other factors must be considered. Disorientation and inability to communicate on multiple levels, not just texting, need to be taken into account along with other symptoms, by a doctor.
source:
Time Magazine