Judge Koh shames an Apple employee, makes her promise she would never use an iPhone in court
16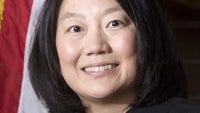 The
second patent trial between Apple and Samsung
is in full swing, so it's more than normal that Judge Lucy H. Koh's courtroom gets a little heated from time to time. One of the most recent events that come with a pretty high level of curiosity is related to the judge's specific rules against smartphone usage in court sessions.
One of the people that experienced Judge Koh's wrath was a regular Apple staffer, who had been sitting on the front row and nonchalantly using her iPhone during one of the court hearings last week. Apparently, this wrongdoing did not remain unnoticed by Lucy Koh's sharp eye. During one of the breaks, the annoyed judge lost her cool and asked the iPhone-wielding enthusiast to stand up and verbally promise in front of everyone that she would never again use her smartphone while being in court.
Purportedly, Lucy Koh's exact words were:
"You. Ma'am. You in the front row!"
. More than enough to make most people blush with shame, isn't it?
But why is Judge Koh so firm about smartphone use in her courtroom? See, despite that most courts don't allow any electronic devices, Lucy Koh and the Northern District of California have a more open approach to modern technology – reporters get to use their laptops in order to take notes, while spectators in the court gallery have access to a free Wi-Fi network. Judge Koh is also hooked on the same Wi-Fi network in order to track the real-time transcription of the court reporters.
However, the network kept failing during the first days of the second patent trial, because a big number of people had simultaneously connected to it with their mobile devices. This made Lucy Koh's live event tracker virtually unusable. As she had gotten quite used to her system, the judge interrupted the court session and asked everybody to turn their electronic devices off under the pain of being banned from the courtroom.
The next court sessions were opened by a clerk, who politely asked everybody to switch off their phones, as devices couldn't be left operational even in Airplane mode.
source:
MacWorld