Javelin browser for Android review: a promising newcomer
17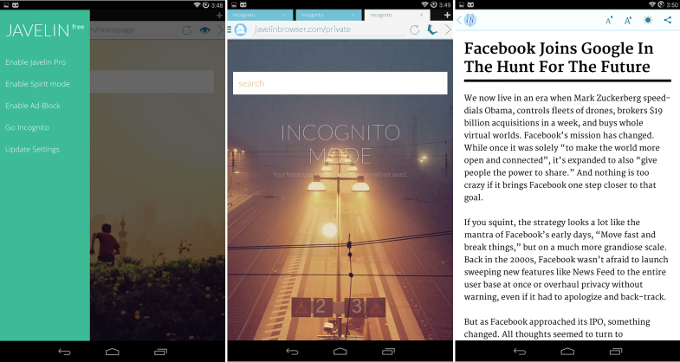 | | |
| --- | --- |
| Developer: Steven Goh | Download: Android (version 2.3.8) |
| Category: Productivity | Price: Free, with а $2.99 PRO upgrade, and in-app purchases |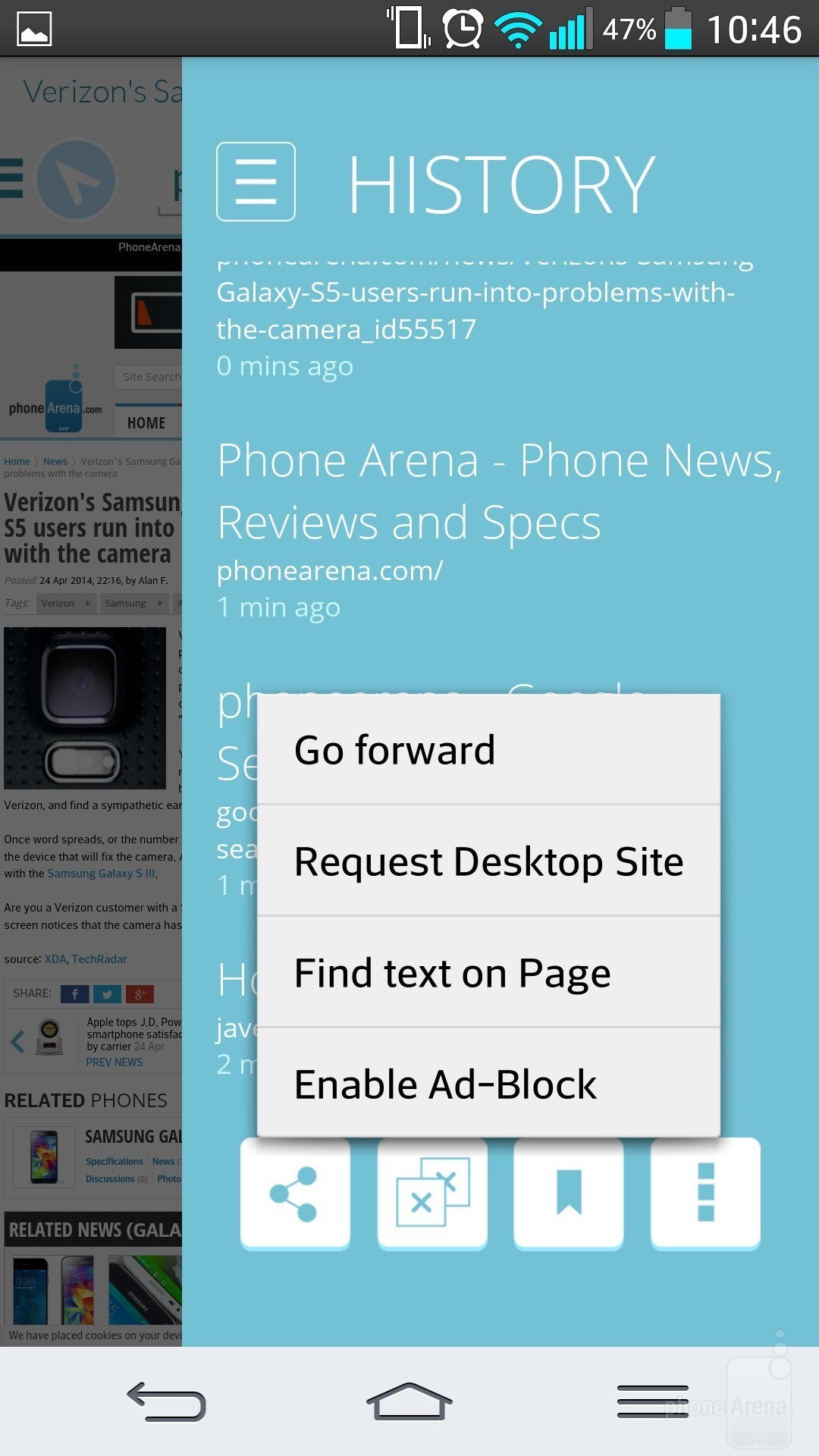 If you don't like the stock Chrome, or the preinstalled manufacturer browsers on your Android phone or tablet, there are plenty of 3rd party solutions to choose from in the Play Store. We even made a
thorough comparison of their speed and extra features
not long ago. There is a newcomer on the browsing block, however, named Javelin, which is worth taking for a spin, as it focuses on the actually useful extras, and is developed with secure surfing in mind.
Let's start with the convenience factors first. Javelin offers a Reading Mode, similar to Apple's Safari, or Samsung's Android browser. It strips the article you are reading from unwanted distractions like ads of dancing penguins, pictures, and even fancy formatting, leaving only scrollable, resizable text for your tired eyes to uptake. Next in line is the built-in adblock, which disposes of said dancing penguins, pop-ups, or other advertising paraphernalia that can quickly become annoying during your websurfing sesh. Javelin also opens up almost immediately, and offers one or two-touch navigation for all major actions to save you time. In addition, the developer has provided a few simple gestures to open, close, and navigate between tabs.
Now off to the security features - besides the usual incognito mode, which doesn't save your history, and fights cookies away, Javelin offers browsing via a VPN proxy service, which is with an in-app purchase, and is optimized to keep your connection's speed intact. Your account access is used only one time when you fire Javelin up, so that the developer knows where to send a support email, if needed. Furthermore, the location access is disabled by default, though you can allow it in the browser's settings later. Location is used by Google Maps, News and many other services you might not want privy to your whereabouts.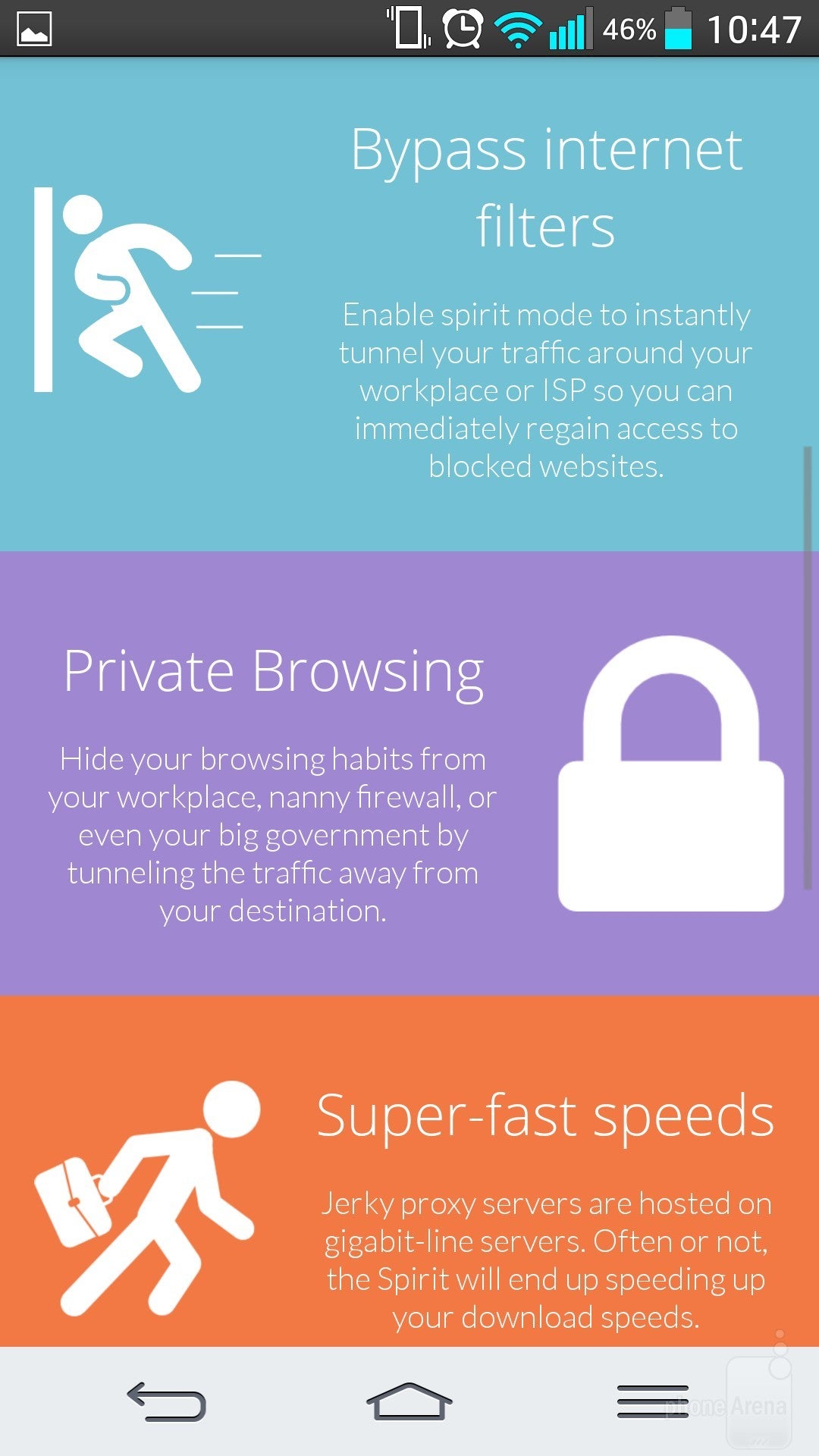 As for the everyday stuff, Javelin sorts your bookmarks by the ones you use the most, and puts them front and center, with easy access just a right edge swipe away, and the same goes for your browsing history. You can easily share the current website from there, close all tabs but the current one, enable the ad-block function, or search for text in the page. Diving deeper into the settings, you can turn the navigational gestures on/off, and enable Adobe Flash. Yep, Javelin supports Flash, though you have to sideload the APK file from Adobe's Flash archives support site. That's the only time we noticed a glitch in Javelin, as when the Flash Player APK downloaded, it didn't prompt us to turn on the permission for 3rd party app installation from the settings, like other browsers do.
All in all, the new Javelin browser on Android really impresses with the attention to detail put into its interface, settings options, and navigational gestures. Access to everything you might need the most is made to be real easy, and Javelin's performance, such as rendering pages, or scrolling, is on par with Android's finest, as you can see in the Chrome vs Javelin Browsermark scores below. When we add the focus on secure browsing, such as the incognito mode and VPN options, Javelin becomes one of the most promising newcomers on the Android browsing ring, while the developer keeps adding options, smoothing out the interface, and squashing bugs. We can wholeheartedly recommend that you take Javelin for a spin, and judge for yourself what an indie developer with determination can do, even when faced with a complex task, like building a brand new browsing app.
Pros
Multi-pronged approach to secure browsing
Clean interface with simple gesture navigation
Fast VPN browsing option via an in-app purchase
Handy reading mode
Adobe Flash support
Cons
A $2.99 PRO version needed to unleash the full potential
Glitchy at times, and with small bugs
| | |
| --- | --- |
| Developer: Steven Goh | Download: Android (version 2.3.8) |
| Category: Productivity | Price: Free, with а $2.99 PRO upgrade, and in-app purchases |