Japan Display announced development of better VR screens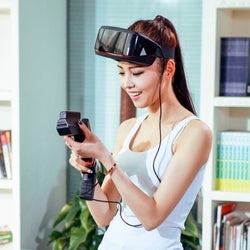 Japan Display is among the leaders in LCD screen production for small and medium devices. The company was created in 2012 by combining the display departments of Sony, Hitachi and Toshiba, so it's only natural for it to achieve some pretty good results.
Earlier this week, Japan Display announced it's working on a display, specifically-designed for better VR experience. The display measures at 3.42 inches and has
pixel
density of 651 ppi. Japan Display has looked into increasing the pixel density, in order to avoid visible lines between the individual pixels. Judging by the images provided by the manufacturer, it's done a pretty good job, but there's still some room for improvement.
Another problem with current mobile VR solutions is
motion
blur, due to the low refresh rate and response time. Japan Display managed to address that and raised the refresh rate to 90 Hz, as opposed to the standard 60 Hz that most modern smartphones use. A refresh rate of 60 Hz is more than enough for any smartphone, but for VR purposes, the 30 Hz increase should really make a difference. The Japanese company has also reduced the response time to 3 ms, which better suits VR-oriented displays.
Japan Display also claims it has decreased the latency between the motion detected by the VR headset and the motion displayed on the LCD screen, which should allow for the user's brain to handle longer sessions of VR usage without that much stress.
The company hasn't stated if its displays will be used in any phones as of yet.
PhoneArena is on Instagram
. Follow us to stay updated with fresh news and flashy media from the world of mobile!
source:
JDI
via
Engadget