JBL Link Bar is the first soundbar with Android TV and Assistant built in
2
Have you ever wanted a soundbar that could also dim your lights? Well, here's one: the new JBL Link Bar – a first-of-its-kind soundbar with built-in Android TV and Google Assistant functionalities.
So yes, this is a soundbar you can speak to. You can ask it to turn on the TV and switch to a particular channel or program. You can use it to control smart appliances via voice commands. You can access all sorts of apps and content through its Android TV integration. You can instruct it to play music from your streaming service of choice. And of course, the Google Assistant is always listening for your queries and requests.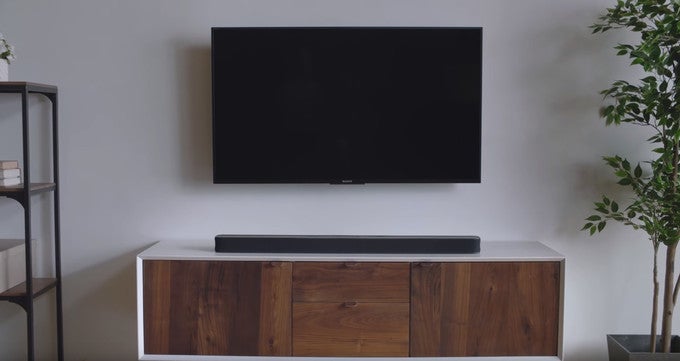 The new JBL Link Bar soundbar (the gizmo below the TV)
From a hardware perspective, the JBL Link Bar appears to be designed like every other soundbar, but with the addition of multiple microphones to pick up voice commands. Further details, such as output power, connectivity options, and acoustic properties, remain a mystery for now, but we do expect these to be unveiled by its maker at a later point.
But if you feel like one of these would be a perfect fit for your man cave, then prepare yourself for a lengthy wait. The JBL Link Bar is scheduled to launch in fall of 2018, and we don't even know how much JBL is going to charge for it. But then again, can you name another soundbar you can play Space Trivia with?
Smart TV Content Meets Amazing Sound: JBL and Google Developing LINK BAR
May 07, 2018 — Fans of the JBL LINK speakers have reason to celebrate this week, as we've just given an early look at the latest addition to the series—the JBL LINK BAR. The news was shared at the annual Google I/O developer conference in California this week, and it highlights the collaborative efforts between JBL and Google to deliver a soundbar solution that further builds out the voice activated JBL LINK series.
The LINK BAR will be the industry's first soundbar powered by Android TV with the Google Assistant built in. It's designed to combine JBL's audio expertise and Android TV's plethora of content, delivering a smarter way to watch your favorite content with best-in-class sound. The LINK BAR turns any TV, regardless of make or model, into a Smart TV. Just by saying "Hey Google," you'll open the door to a world of programming available hands-free through Android TV. So, whether you prefer to binge your favorite shows or hear the thumping action of live sports, the JBL LINK BAR has you covered.

Created with the tech-savvy user in mind, the LINK BAR will take its place at the forefront of the multi-room soundbar technology revolution. The launch of the LINK BAR marks the latest collaboration between JBL and Google, with the Google Assistant already included in the JBL LINK 10, 20, 300 and 500 models, and the recently announced LINK VIEW and JBL Everest Google Assistant headphones. Availability and pricing for LINK BAR will be announced later this year.