J-Lo stays loyal to the 'Berry, flaunting a BlackBerry Bold 9900 in her latest video
18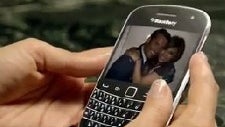 RIM seemed to have somehow managed to stay in the smartphone game even with the dated UI of BB OS, but
last quarter it all started falling apart
and the phone maker seems to have started sliding down a dangerous Nokia-like slope. A perfect time to place your
BlackBerry Bold 9900
in the hands of Jennifer Lopez
, isn't it? Well, some publicity always helps and this time the voluptuous latina is shown checking out romantic pictures on the 'Berry in her latest video "Papi." The singer has previously also promoted the 7-inch BlackBerry Playbook tablet.
The video features not only RIM, but also Italian car maker Fiat. Another interesting fact about it is that it premiered on New York's Times Square on Good Morning America. But what is it all about? How about
hoards of men chasing down J-Lo
and trying to get her attention? Well, it's entertaining at least, but will this help RIM get out of their troubles somehow? That's one question we'd love to see addressed directly, so feel free to share your thoughts on it in the comments below.