It takes 5 days and over 300 hands to assemble an iPad
25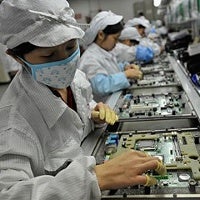 ABC's Nightline report focused on working conditions at Apple factories overseas, but apart from that it revealed some interesting facts about how iPhones and iPads are made. There were no groundbreaking news, but even the opportunity to take a look inside at Foxconn and see the
real workers on the assembly line
was fascinating. We could also see why people opt to work long hours at the Chinese company where pay is above average. With employment hard to find in China, Foxconn factories employ young people, most under 30, that live in rooms of 6 or 8 for long periods of time.
The documentary shows huge lines of people waiting to get hired with only one requirement - a valid Chinese ID card. Training is on site as the demand is so huge that the company often has to virtually hire people overnight. But it's not too long - three days of intense coaching and team building exercises and the new workers are sent to the frontlines of Foxconn assembly.
But overall there was nothing too shocking - working conditions didn't strike as horrific if you overlook the 12-hour shift. Those interviewed complained about things you'd normally hear in other factories as well - the hours, the food and wage. Interestingly, there are two one-hour breaks for food which many workers used to take a nap.
The biggest surprise that came with the
iFactory: Inside Apple
report, though, seemed to be the revelation that iPhones and iPads are manufactured largely by hand. For instance, it takes 141 distinct steps to make an iPhone. The iPad on the other hand is manufactured over 5 days and it goes through 325 people until the final product is ready. Other curious fact is that Foxconn makes 300,000 iPad camera modules each day.
The actual video is not yet available online, but we'll make sure to update you when it comes out. Did you catch yesterday's ABC special? What caught your attention in the documentary? Share with us in the comments below.
Update:
And the full video is out on ABC. Hit the source link below to watch it.