Is this your DreamBerry? A video rendering of the BlackBerry 10 London
27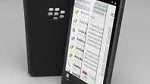 With only a few pictures to work off of, a rather talented designer put together a very nice looking video rendering of the BlackBerry 10 touchscreen "L-series" also known as "London."
By studying all the different images that have surfaced (photos of
the inside
and
the outside
, plus drawings), John Anastasiadis drew up a rather nice video rendering of what could be offered with BlackBerry's next flagship device. John also took clues from the BB10 Dev Alpha device to work out a drawing.
After all that, the finished video was born from about 30 hours of work. For the CrackBerry addicts out there, you will recognize that John Anastasiadis has put together a number of so-called "DreamBerry" concept drawings in the past. It will be interesting to see if this concept of the BlackBerry 10 London will be accurate to the final product expected in the first quarter of 2013.
Rounded corners aside, what do you think? Is London calling you?
source:
CrackBerry.com