Is RIM contemplating on changing the name of the BlackBerry Bold 9800 to the Torch 9800?
3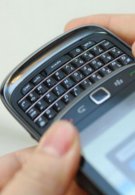 Naturally when a
short video
showcases the big bold words of BOLD on the back of the expected BlackBerry Bold 9800 smartphone, some would consider it fitting enough to continue in fashion and success seen with the Bold line. If there is one thing we can say that we've seen with all Bold devices thus far, it has to be the traditional QWERTY keyboard. So when the BlackBerry Bold 9800 packs a touchscreen and a portrait sliding QWERTY, some would argue if the Bold moniker should be in line with it – some would say it may be more appropriate to follow the Storm line. However, as we've seen in the
latest detailed images taken of the handset
, the rear of the cover was completely blank. Apparently it could be that RIM is possibly contemplating a name change to the BlackBerry Torch 9800. We'd imagine that it would be appropriate seeing that it takes the touchscreen functionality seen with the Storm line and packs in a Bold like QWERTY – so a new name would make some sense. But then again, the Bold name is probably more ingrained in the minds of users as the Bold devices have proven to become a hit.
RIM BlackBerry Bold 9800 Preliminary Specifications
source:
CrackBerry
via
SlashPhone