Intel closes the power consumption gap on ARM, Atom competitive with Cortex A15 and Krait
42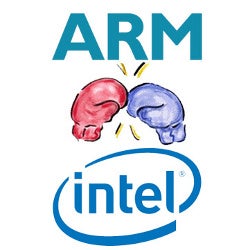 When we speak about mobile devices and their processors, ARM is the first and only name that will come to mind. Intel has started making its baby steps into mobile this year, but its presence is still hard to notice with only a couple of device running on Atom chips.
Chipzilla is trying hard to change that, coming from behind in a very competitive space where ARM has managed to outplay it with a drastically more power-efficient architectures over the last couple of years. With the latest Atom chips Intel might have had the performance advantage, however it never managed to get power consumption down to competitive levels. Until now.
An Intel engineer paid a visit to AnandTech bringing two cream of the crop devices, a Dell XPS 10 tablet based on Qualcomm's Snapdragon S4 with Krait (dual-core, 28nm), and a Nexus 10 running on Cortex A15-based Exynos 5 Dual chip (dual-core, 32nm). Why? Simple, to prove that Intel has once and for good dealt with its power consumption issues. For that, power consumption of those devices was fared against Intel's own solution, the Atom Z2760.
The conclusions are very favorable for Intel. Atom is definitely faster than Krait (which alone is interesting given that Atom is a 5-year old architecture), but what's even more exciting is that the two are nearly on par in terms of power consumption.
Things will start getting interesting in around a year when Intel finally refreshes its Atom chips with a new 22nm Atom core.
In the comparison with Cortex A15, Intel's Atom loses in terms of performance. However, A15 is clearly not meant to deliver its full potential on smartphones - it's way too power hungry. It would work fine on tablets, but on smartphones it's no coincidence that ARM recommends using it in a big.LITTLE configuration with a more power efficient A7 that will take over with less intense tasks.
To conclude, Anand makes an interesting suggestion. Intel's Haswell architecture for desktop, a high-end solution costing tens of times the price of mobile solutions, is likely to receive a drastic power consumption makeover and could go down to the impressive 4W when we arrive at the 10nm manufacturing around 2017. That would open up the gates of heaven for mobile devices like say tablets. Moreover, it might be possible to get Core chips into smartphones even earlier than 2017.
Intel would definitely need some high-profile devices to drive adoption and market share, but it seems like its hard work could finally start to pay out and ARM will feel the heat soon.
source:
AnandTech