Instapaper lands on Android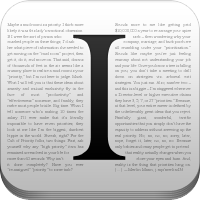 Instapaper is one of the most popular bookmarking services allowing you to put off reading for better times and even read marked pages offline. The application launched on the iPhone and iOS, and has been exclusive to the platform, but this changes now as Instapaper launches on Android.
Surprising? Yes, a bit as Instapaper creator Marko Armenti has said that he only plans to develop for iOS, but this obviously didn't mean that he couldn't outsource the coding to Mobelux, the software company behind the Android version of Instapaper.