Infographic breaks down just how obscene Apple's cash pile is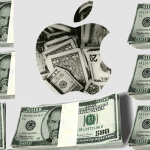 Apple makes a lot of money. This isn't a secret, and we can't really tell you anything new about what the company plans to do with it all. We could start a rumor that although Steve Jobs was known to be relatively austere, he actually always dreamed of building a giant money pool like Scrooge McDuck. But, that rumor likely wouldn't go far.
Instead, we've got an infographic from MBA Online that is going to get you to visualize just how mammoth a fortune Apple has created. Our favorite number from the graphic is that if you split Apple's worth across its employees, each employee would get a check for $6.6 million dollars. As amazing as the numbers are, each one points to how smart Apple has been in building its fortune. The company is not wasteful. It doesn't carry much stock. Whether you like Apple products or not, the market for those devices is so rabid that Apple can charge premium prices for huge profit margins. And, Apple stays within itself and never stretches too thin. It is always focused. Regardless of other Apple philosophies one could point to, you have to be impressed with the company's ability to make money.
Created by:
MBA Online