Infograph shows the real truth about teen texting
20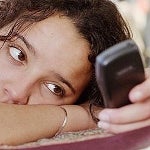 Earlier this month, we informed you that
the text message had turned twenty years old
. And while some stats show that the application is in decline, 63% of teens still can't get through the day without sending at least one text to friends or family. The stats come from cellphone signaling company Wilson Electronics. The average teen
texts over 100 times per day
or 7 times for each waking hour. Females get off 3,952 texts per month vs. 2,815 for the boys.
Here's an interesting stat. While 75% of teens admit to sending texts,
only 6% send or receive email
. There is a dark side to all of this thumb twirling. 28% of teens say that they have sent fully nude photos of themselves over SMS and according to researches Nielsen and Pew, 25% of the teens surveyed say they engage in sexting. As you might expect, twice as many boys as girls ask for sexts.
Parents, better sit down with your kids now and discuss the dangers of
texting while driving
. Why? Because almost half the teens age 16-17 are texting while driving. Half of those in the 12-17 age bracket have been in a vehicle driven by someone texting while at the wheel. That's twice as many who are sexting. Keep in mind that texting while driving makes you 23 times more likely to get into an accident. Perhaps the best thing to do, if you are a parent of a teen or pre-teen, is talk to them about both sexting and texting while driving.
source:
PCMag