Imagine plastic that gets stronger when stressed, drop-proof devices here we come!
15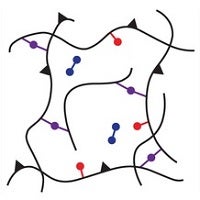 Without getting into a whole lot of chemistry, some talented minds at Duke University have formulated a new type of plastic that gets stronger under increased levels of stress. This feature is owed to a carefully designed molecular structure to this new material.
This plastic retains the characteristics found in all plastics, but the researchers able to find a way that allowed a molecule called carboxylate to cross-link across chains of molecules in the plastic under stress. The result is the plastic can react to physical force, making it stronger as stresses increase.
This reaction to a "mechanical force" leads this discovery to be called a "mechanophore." The researchers tested this mechanophore by creating this plastic and feeding it through an extruder. They then measured structural reactions on a microscopic level through a technique called nanoindentation. The hardness of the mechanophore increased by 200 times after the extrusion process.
The team at Duke is continuing its research, but the applications are far reaching, not the least of which is a tough, without being overly stiff, plastic that could be used on our handy smartphones. Just imaging the drop tests we could come up with!
source:
ExtremeTech