If your Verizon unlimited plan was incorrectly changed, Verizon will allow you to get it back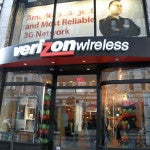 The date of June 28th was like a line drawn in the sand for Verizon customers. That was the deadline for Verizon customers to switch to a new phone and be allowed to keep an unlimited data plan. So for those who pre-ordered the Samsung Galaxy S III on June 27th or earlier, they should see no change in their plan. That was the theory, anyway. It turns out that some of Big Red's customers were sent letters telling them that they no longer had unlimited data and were
automatically given a new tiered data plan
.
inactive pricing request
" submission would have to be made requiring numerous callbacks for updates.
While Verizon said on Monday that they will honor their original statement and those who purchased the Samsung Galaxy S III prior to June 28th will get to keep their unlimited data plan, we would suggest double checking to make sure that you are still rockin' an unlimited plan if that is what you wanted. If you were mistakenly switched to a tiered data plan, get on the phone right away
before your new tiered plan sticks
.
source:
DroidLife