If you don't put a case on your Apple iPhone X, it could end up looking like this!
99+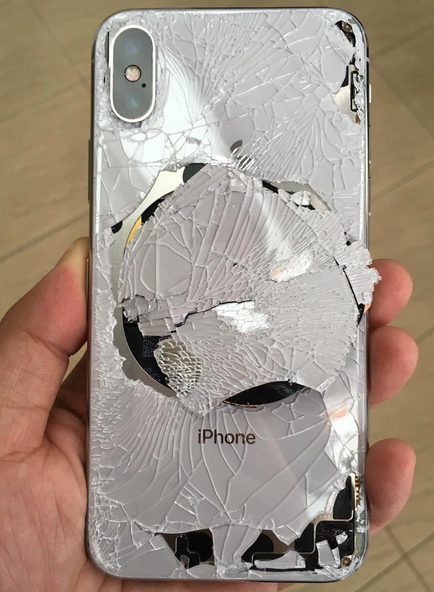 Back glass of an Apple iPhone X is shattered after the phone was dropped
You might remember a now famous video from 2014, dated September 19th. Yes, that was the day that the
Apple iPhone 6
launched, and an 18-year old named named Jack Cooksey had just purchased the new phone at the Apple Store in Sydney, Australia. A television reporter on the scene decided to interview the kid, who was clutching the box containing his new phone. With the television camera focused on him,
Jack opened the box and his brand new iPhone 6 slid right out and hit the pavement
.
Well, let's move forward three years to 2017. Today, the
Apple iPhone X
is being launched, and while Apple claims that the glass front and back are made from the strongest glass to ever appear on a smartphone, that doesn't mean that the phone won't break if dropped. One video, which was labeled tongue-in-cheek, "iPhone X drop text result," is actually nine-seconds worth of a cracked and damaged tenth anniversary model. And a photo that was attached to a tweet shows the rear glass on an iPhone X after its owner dropped the device.
Yes, the iPhone X looks cool. But if you own one, it means that you have invested at least a grand in the phone. Surely you can pay just a few extra bucks for a case to protect your investment. And if you don't like covering up the beauty of the handset by putting it in a case, take a look at both the video and the picture that accompany this story. Would you rather that your shiny new phone look like either one of those two dropped iPhone X units?
source:
Fun360
,
@EnglishRussia1
via
BGR
Recommended Stories