Humor: Sources of a few craters on the moon may have been discovered
17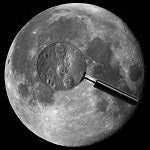 Look closely and you will see the indentations were caused by none other than the nearly indestructible Nokia
3310
. Nokia's classic feature phone has been the subject of many humorous ideas lately, from the
Thor's Hammer
to how it would stand up to Chuck Norris. Sadly, the
3310 will indeed blend
, but that is not to say the 3310
cannot make an impression.
Lumia 920 are extremely well built
. Plus we may be seeing an aluminum built device on the way soon.
With discoveries like this, who needs manned missions to the moon. Perhaps the Mars Rover will find some more interesting discoveries too. Or, maybe this is sampling of upcoming lossless zoom features (not)?
sources:
Nokia
(Twitter) via
My Nokia Blog