How to watch the Presidential Debate tonight on your mobile device
10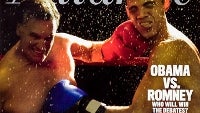 Obama and Romney will be meeting face-to-face tonight for the first presidential debate from 9-10:30 p.m. EST at the University of Denver in Colorado. There is a lot at stake - for Obama, to articulate his domestic policy recap so far, and maybe hint at eventual second term actions, whereas Mitt Romney has to hit hard and strong where it hurts, on the economy and the jobless rate, and regain some polling ground.
If you are on the go, there are several ways to watch the debate live as it happens:
1. You can use an YouTube app on your device, or directly go to the mobile version, as
YouTube will be streaming live the preisdential and VPs debates
for the first time in its history through its own
Election Hub
, as well as on the
ABC News YouTube channel
. Not only that, but the YouTube Election hub is sporting live commentary from media partners like the Wall Street Journal, The New York Times, Al Jazeera English, BuzzFeed, Larry King, Phil DeFranco and Univision, which will have the debates translated in Spanish as they happen. The debate video and the accompanying material will stay on YouTube after the event finishes for those who are tuning in later.
2. Those who subscribe to Comcast's Xfinity TV app, can watch the CNN debate coverage live, or through the CNN app as well.
3. Samsung and Peel TV are offering owners of some Galaxy devices with the Peel Smart Remote TV app (available both for Android and iOS) preinstalled to give live feedback during the debates, while watching them on the channels provided, and do some virtual handclapping or thumbing down. That covers the
Galaxy Tab 7.0 Plus
,
Tab 7.7
,
Tab 2 7.0
,
Tab 2 10.1
, and the fresh
Note 10.1
.
For more information on how to follow the 2012 presidential campaign with your mobile device, regardless of your candidate preferences, see our slideshow below.