How to view and manage your location history on Android
2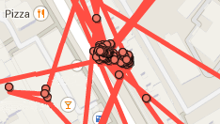 Did you know that Google can automatically track your Android device's location, while keeping a detailed history of it? That is, of course, if you allow Google to access your location, because you can always turn off this option. Assuming you don't want to turn it off, we're going to show you how to access and manage your location history.
First of all, you need to make sure that location reporting is enabled on your Android phone or tablet. In case it's not enabled, you can turn it on from Settings -> Location. Once that's done, you also have to enable Google Location History if you want to keep track of your (or your device's) whereabouts.
When Location History is on, Google records your Android device's movement on Google Maps, so you can view its location history at any time from Settings -> Location -> Google Location History. A detailed map of your locations is always accessible, and you can choose to view history for 1 day, 2 days, 3 days, 5 days, 7 days, 14 days, or 30 days. If you want to, you can delete your location history, either all of it, or just for a certain period of time (from 1 day to 30 days).
All this is also accessible from any PC at https://maps.google.com/locationhistory (but you need to be signed in with your Google account on the respective PC).
Note: This tutorial was done using Android 5.1 Lollipop. However, things should be relatively similar on other versions of Android.