How to record hyperlapse videos on Android
8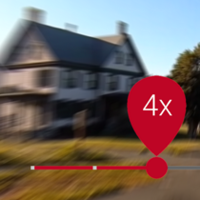 Hyperlapse and time-lapse videos aren't exactly the same thing*. Thus, while there are plenty of Android apps that let you
record time-lapse video
, things are different when it comes to recording hyperlapse video. Still, there is one Android app that's very good at creating hyperlapses, being the best alternative to Instragram's Hyperlapse (which, as you may know, is currently available only on iOS). The app that we're talking about is called Microsoft Hyperlapse Mobile, obviously being made by Microsoft. The app is completely free (no in-app purchases), and you can download it via Google Play - see the link at the end of this article.
Once Microsoft Hyperlapse is installed on your Android device, you can open it and start creating hyperlapse videos in almost no time. The app features a straightforward interface, welcoming users with two main options: Record video, and Import existing video. The first option opens a camera interface from where you can record hyperlapses. The second option lets you create hyperlapses from videos that you didn't shot with the app - any older video that you may have, shot with any camera, can be used. Depending on the length of your video, it may take minutes before the final hyperlapse is ready - this will be automatically created once you stop recording. Needless to say, the quality of hyperlapses will depend on the quality of your camera.
Microsoft Hyperlapse Mobile allows you to choose different speed rates for your videos, from 1x to 32x. You can use either the rear, or the front camera of your Android device, and you can easily share hyperlapses via Facebook, Instagram, Twitter, YouTube, email, and so on. The application works on devices running Android 4.4 or later. Let us know if you've tried it, ok?
* - time-lapse videos are made using static cameras, whereas hyperlapses are usually created with moving cameras: either held in hand by someone, or mounted on a vehicle. Thanks to image stabilization algorithms that apps like Instagram Hyperlapse and Microsoft Hyperlapse are incorporating, hyperlapse videos are mostly shake-free, and look pretty good, even if the original video is shaky.
download:
Google Play