How to Synch Your JAM or MicroSoft Bluetooth Stack via Bluetooth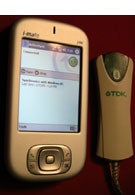 There has been a lot of interest in how to synch your JAM or Microsoft Bluetooth Stack enabled Pocket PC with your Bluetooth enabled computer. Here is a tutorial how to do this in three easy steps. What you need:
A computer which is Bluetooth enabled, via either a USB Bluetooth transmitter, hub, or on-board radio. I have a TDK USB transmitter for my laptop and a

LogitechDiNovoBluetoothMediaCenter

for my Desktop. Both use a Widcomm stack for the bluetooth radio and work extremely well. I try to avoid the MicroSoft stack that comes bundled with the new Service Pack 2 that MicroSoft is currently embedding in its OS.

A Pocket PC with the MicroSoft Bluetooth Stack such as the new JAM or iMate Pocket PC, etc.