Hands on with the Samsung Epic 4G
25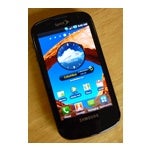 There is no denying the success of the
HTC EVO 4G
: Sprint cannot keep the unit in stock and two and a half months after launch supply simply cannot even come close to keeping up with demand. No doubt eager to capitalize on the momentum Samsung is throwing their name in the hat with the Epic 4G, a Galaxy S phone. Unlike the Galaxy S variants found on the other three major carriers the Epic 4G offers not only a 4" Super AMOLED display but also a full QWERTY keyboard. As the name implies the Epic is capable of running on Sprint's WiMax network, but also supports 3G over EVDO Rev. A and has Wi-Fi capabilities as well. It has a rear-facing 5 megapixel autofocus camera with flash, complimented by a VGA shooter up front for self-portraits and video chat.
motion
sensing which will make it a better gaming device than the EVO. Samsung's Media Hub is a one stop shop to rent videos, though the service has not launched yet so we are unable to try it out at this time. It will be available by the 31st, which is when the Epic 4G goes on sale at your local retailer.
Of course what most people will choose the Epic 4G for is the physical keyboard. While it does add bulk to the phone, to some is an absolute necessity and is worth the $50 premium over the HTC EVO 4G. In our early usage we've been accurate with it, but not as quick as we'd like. We'd the keys are large and well-spaced, but our initial impression is that we'd like some texture to the keys. They offer good tactile feedback though, and plenty of space to work with.
Stay tuned for our full review of the Samsung Epic 4G, coming soon!
Samsung Epic 4G Specifications