Hands-On with Bolt - the WebKit-based Java Browser
7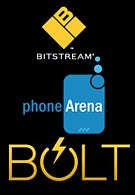 Last Friday we informed you of the new internet browser -
BOLT
, which is currently in a limited test version and is not available for everyone. We applied for participation and hoped to receive an invitation. A day later it's been already waiting on our e-mail address. We wondered which phone to use for the test, because it's been explicitly said in the e-mail that the link can be used only once. In the end, we decided that it should be the Nokia 6120, which uses the Symbian S60 operating system. We chose this phone, since BOLT is said to be really fast and should run even on older devices. Actually, it's not that important what the used phone should be, it just needs to support JAVA applications.
We decided to try whether the promises of the developer about really short loading times are true. With 3G turned on, the best result that we could achieve when loading our homepage has been 14 seconds, while loading it with the built-in browser of the phone, which is also WebKit-based, took a whole 40 seconds. BOLT definitely deserves standing ovation for its fast page loading.
We were very pleased with the fast rendering of the elements, but as we took our time with it, we noticed that some things don't visualize correctly. In addition, YouTube's Flash player doesn't show up, but more on this later. Do not forget, however, that this is a beta version and many things can be changed until the final product comes out.
We wanted to see what the situation with
YouTube
is and surprisingly, the full version of the site opened by default. Again, the Flash menu with the currently playing videos was missing. We proceeded and clicked on the first clip of Feature videos and a rather strange and ugly player appeared before us. Despite its appearance, we clicked on "Play" and a few seconds later a message showed up, saying that BOLT wants to play the video with the video player of the phone, in the current case – RealPlayer. We didn't like this very much, but we won't be too drastic here, since the browser (as we've already mentioned) is still in its beta version. The efforts to play online videos from other sites ended up totally unsuccessful – the player didn't show up. That's why we suppose that BOLT has been optimized only for YouTube, at least for now.
As a whole, BOLT managed to impress us, but it should be improved further, in order to be comparable to Opera Mini, for example. We'll wait and see.