Hackers can attack Bluetooth devices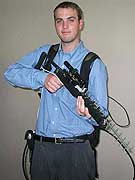 Bluetooth is a low power radio technology replacing the need for wires connecting electronic devices such as personal computers, printers, palm top computers and mobile phones. It uses radio waves to transfer information, so it could be vulnerable to attacks. Security specialists say, is easy for a hacker to steal, read or modify a phone's address book, calendar or virtually anything else stored in your handset without leaving any trace of the intrusion.
Adam Laurie, who is chief security officer and director of AL Digital and the Bunker, and Martin Herfurt - researcher for Salzburg Research demonstrated how software tools they created give them virtually total control over Bluetooth phones from a wide range of cellular phone manufacturers, including Nokia and Sony-Ericsson. The experts showed several different ways of attacking a phone.
One of them is called
SNARF attack
: obtaining all data stored on the phone without the owners knowledge. Lately many devices like PDAs and smart phones are used by individuals to not only store phone numbers and their calendar information but also passwords PIN numbers and other security information which could be an easy target if your handset is hacked.
Another one is the
BACKDOOR attack
– this is when a hacker establishes trusted relationship with a handset, but then ensuring that it no longer appears in the target's registry of paired devices. This connection is granting him access not only to the data on your phone but also allowing him to use modems and WAP/GPRS services.
The third is called
BLUEBUG attack
. The reason for your phone to be attacked is for the hacker to use it to make a call, send or read SMS, connect to data services or even to monitor conversations in the surrounding area of the phone. The way the eavesdropping works is when the attacker directs your phone to call his device and when he picks up he will be able to listen to the chatter near by your phone.