HTC shows off the camera greatness of its One series smartphones with the aid of bubble man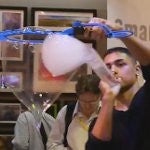 Of all the booths littered at the
CTIA 2012
showroom floor, we have to say that
HTC
had one interesting show that attracted us from afar. Besides all of the cool smartphones on hand to check out, like its Windows Phone and Android devices, we were actually most intrigued by the show put on by
bubble man
– who happens to have a unique skill in blowing bubbles.
Specifically, this isn't your ordinary show, since HTC was actually using bubble man to show off the
camera greatness of its One series smartphones
. In fact, we were all invited to use the available HTC One smartphones to capture bubble man doing his work. To tell you the truth, we were intrigued by his unique skill in making blowing bubbles such an enchanting event. It's really hard to explain what he's able to do, but all you need to do is just check out the video below to see him in action.
Hey, we have to give props to HTC on this one for concocting such an interactive way to check out the smartphones in action.