HTC pulls out of Brazilian smartphone market, citing poor sales
26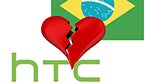 According to an HTC spokesperson speaking to AndroidPIT, HTC has decided to cancel the impending launch of the HTC One line in Brazil, and will be exiting the smartphone market in Brazil completely in the coming weeks. HTC once produced phones in Brazil, and had been steadily losing market share since they pulled their productions lines from the country.
To get a feel for how steep the odds were for HTC in Brazil, StatCounter indicates that HTC phones had a mere 0.11% market share in the first quarter of this year. That means that not only was HTC trailing industry leaders like Samsung, Apple, and Nokia, but they were behind companies like LG, RIM< and ZTE as well.
Their inability to compete in the Brazilian market may hurt them in the long run, as Brazil has a quickly growing economy; smartphone sales are growing accordingly, with 8.9 million devices sold last year. Within the next 4 years Brazil is expected to pass up the U.K. to become the fourth largest smartphone market.
Given these market conditions HTC had to make a tough decision. Their refusal to make low-margin phones to compete with Nokia and ZTE may have further reduced their chance to grow sales. As a result of this move most HTC employees in Brazil will see their jobs disappear, although it is reported that HTC will keep on a small contingent of customer service employees to provide support for existing customers.
source:
AndroidPIT
via
The Verge