HTC Trophy Unboxing
14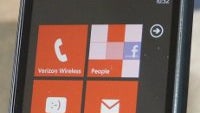 Generally you'd expect a carrier to offer somethingrelatively fresh and unseen before if they're launching a device with a newmobile platform, but instead, Verizon decides to take a 6-month-old model andmakes it their very first Windows Phone 7 smartphone. Alas, the platform'spermeation in the US market is now complete now that Verizon is finally in the game with the HTC Trophy, though, it's a bit later than what some would've anticipated.

Packaging wise, we're presented with a fairly clear-cutretail packaging – with an image of the handset position directly on the boxwith only the contents mentioned in the rear. Opening it up, we feast our eyeson the handset with its clad in red 1,300 mAh battery next to it, whileunderneath that are the usual set of accessories that we normally find – these include the microUSB cable, wall charger, andstandard set of documentation. At this point, we really can't expect anythingmore seeing that the handset is priced somewhat decently at $149.99 with a2-year contract.


Everything pretty much looks intact from what we reviewed with the HTC 7 Trophy overseas back in the fall, which is a good thing for the most part, butits design isn't something that'll instantly grab the attention of onlookers.Nevertheless, we're rather pleased with its overall build and construction, butwe especially adore its soft touch coating that does wonders in keeping itclean looking. Additionally, it's not all that large and comfortably fit inour hands with no issues – plus, the rubbery feel of the handset provides asolid grip.
In terms of specs, it doesn't particularly sway from thenorm since it features a 3.8" WVGA (480 x 800) LCD display, 1GHz QualcommSnapdragon MSM8650 processor, 512MB ROM, 576MB RAM, 5-megapixel auto-focuscamera with LED flash, 720p video recording, 16GB of internal storage,Bluetooth 2.1 with EDR, 802.11 b/g/n Wi-Fi, aGPS, microUSB port, and a 3.5mmheadset jack. So far, the Windows Phone 7 experience on the handset is prettysnappy, responsive, and delightful, but then again, that's exactly the kind ofperformance we tend to see with the platform as a whole. Regardless of that,Verizon customers will undoubtedly be curious about what the platform has tooffer. Keep your eyes peeled because we'll have our in-depth review shortly!

Recommended Stories