HTC One is 3rd best selling phone in the U.S. and it hasn't hit Verizon yet
83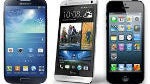 There has been a lot of talk about the HTC One sales, mostly due to the state of HTC. There have been a number of high profile employees leaving the company, the HTC One had production delays, and founder/CEO Peter Chou has even gone so far as to say he would step down if the HTC One is a failure. Well, it looks like that won't be necessary, because the HTC One is apparently the 3rd best selling phone in the U.S..
According to R.W. Baird analyst William Power, "the HTC One continues to be noted frequently as the third-best-selling device behind the iPhone and S4″ on AT&T, Sprint and T-Mobile. Of course, the HTC One hasn't made its way to Verizon just yet, and Verizon is the largest carrier in the country.
Reports from earlier in the week have put the HTC One sales at
around 1.2 million
devices per month, which would likely put the handset at a respectable, but fairly distant third place behind the powerhouses from Samsung and Apple. That number is sure to rise when the One comes to Verizon in the
next few weeks
.