HP should rethink ditching the TouchPad, says Canalys
15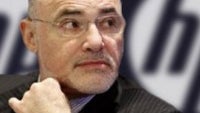 HP has probably had the most wanted gadget in the industry this year - the
HP TouchPad
. Overpriced at launch, the 9.7-inch webOS-running slate was
sharply discounted to $99
just a month and a half after launch, spurring long lines of bargain hungry customers making it all look like Black Friday hit us earlier. But HP's decision to dump the TouchPad might have come a little too early.
"The TouchPad was overpriced at launch and did not sell. This led HP to draw a premature conclusion that the product category had failed,"
Canalys says in its latest research report.
The research group argues that not only HP would have been better off keeping the tablet - it would have been able to capture 10% of the iPad-dominated market for tablets. This, the researchers add, could double or triple the $8 to $10 billion estimated value of the PC unit, which HP said it wants to spin off. Some analysts expect tablets to continue their mushrooming growth and cannibalize notebook sales.
The TouchPad has become the 'must-have' technology product of 2011
"The TouchPad has become the 'must-have' technology product of 2011. Perhaps no other technology vendor, apart from Apple, has ever created such hype for a technology product,"
Canalys added. Moreover, the tablet had reportedly become the hottest in HP's product porfolio in the last decade.
Finally, with Android tablets slow to catch up with the iPad, it's exactly the HP TouchPad, which could have made a dent in Apple's tablet sales.
"HP has established a lead in the race to be the number two behind Apple in the pad business but the window of opportunity will begin to close if delays occur,"
Canalys concluded. At $99, there's little competition for the TouchPad and it has proven super successful. HP has mentioned that while it has sold out all produced tablets, a second batch is coming soon.