HP Omni 10 looking promising: runs on Intel's latest quad-core Atom Z3770 and Windows 8.1 for $399
24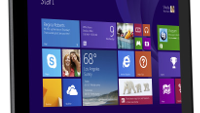 A new tablet has been sneakily outed by the lately slumbering HP, and it's actually good enough on paper to raise questions as to why it wasn't drummed up by the company. We've only heard of the Omni 10 once before,
when it shot through the FCC's database
, though it didn't really help us piece it all together. No matter, for Microsoft's store now shows the Windows 8.1-touting HP Omni 10 in stock, with a thorough specs sheet and snaps in tow.
To start off, the Omni 10 is actually looking quite promising – it sports a Gorilla Glass 3-protected 10.1-inch 1080p display that's being powered by one of Intel's latest, most advanced ultramobile SoCs – the Atom Z3770, based on the silicon slinger's Silvermont 22nm architecture. These Bay Trail chipsets are Intel's bid for entry into the mobile space, something they've struggled with mightily, and the company actually boasted that these new chips are going after the likes of Snapdragon 800. Preliminary tests of the tablet version of the SoC (Merrifield is Bay Trail's smartphone counterpart), show that the chipset is actually handling itself very well, especially on the CPU side of things. GPU performance isn't as great, though, despite it relying on a admittedly watered-down version of the GPU found on Ivy Bridge SoCs (Intel Gen7).
Back to the basics, the Z3770 runs a quad-core configuration with cores that run at 1.5GHz, though they can turbo-up to 2.4GHz when needed (and provided that the Omni 10 can properly dissipate the extra heat). On the memory side of things, you get 2GB of LPDDR3 1066MHz RAM and 32GB of microSD-expandable native storage. The rest of the specs sheet touches on the 8MP Auto Focus/LED Flash and 2MP rear and front shooters, respectively, the battery that Microsoft claims is good for up to 8.5 hours, and the existence of a Micro HDMI slot, Bluetooth 4.0 and Wi-Fi 802.11a (b/g/n). The relatively heavy (630g) and seriously generic-looking slate is ready to ship for $399 for the 32GB version, though it doesn't seem like you can tweak the amount of storage available, which is a shame.
A nice overall package, though we ain't sure if we're more excited about HP possibly being back in the game, or the fact that the new silicon from Intel is looking none too shabby.
source:
Microsoft Store