HP Elite X3 teased with three new videos, still coming out this summer
33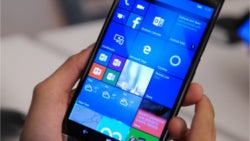 Back at MWC 2016, HP unveiled its ambitious Windows 10 Mobile phone –
the HP Elite X3
– with promises to bring a high-end beast that would combine the abilities of a smartphone, PC and a laptop in one device. HP also showcased its curious Mobile Extender (a.k.a. ME dock) – a laptop-like dock with a 12.5-inch 1080p display, keyboard, speakers and battery – that would be powered by the HP Elite X3 to bring users a Continuum experience on-the-go, which was by far the most exciting feature announced. The company promised a summer launch, although nothing concrete in terms of dates, and then went silent for quite a while.
Now HP has posted three new videos to remind us that the Elite X3 is well and alive and coming out sometime this summer. The biggest difference between the units shown in the videos and the demo units from MWC 2016 is that the latter lacked a fingerprint reader – as we found out in
our hands-on with the Elite X3
– although we knew this functionality would be integrated in time for the phone's release. After all, Windows 10 Mobile does not yet support fingerprint sensors, but will get the feature in the summer Anniversary update and (hopefully) in time for the Elite X3 release.
There's nothing else major in the new videos, just a reminder that the Elite X3 has not been scrapped . The company even had Microsoft Executive VP Terry Myerson and Qualcomm CEO Steve Mollenkopf on board to say a few good things about the upcoming device:
Recommended Stories