Guardzilla 360 is a connected security camera with a 360-degree coverage range
1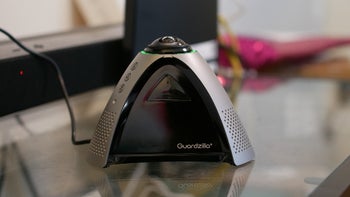 Connected cameras have transformed the way we monitor what goes inside of our homes, but the Guardzilla 360 is a brand-new security camera that provides users with a full 360-degree view. That's certainly different for a fixed camera, especially when the majority of offerings have wide-angle cameras that can cover a pretty decent range, but this one does offer a bit more coverage.
First and foremost, it's a peculiar looking thing for a security camera, seeing that its pyramidal-esque shape is certainly uncommonly. In the middle, there's a 1712p HD fisheye lens that provides 360-degree coverage access – allowing users to see almost every angle with the accompanying Guardzilla app. Other features of this connect security camera include motion detection, infrared sensors for night vision, real-time streaming access, 100 dB siren, two-way communication, push notifications, cloud storage, and an auto-arm feature.
We tried it out for a bit, and we have to admit that the premise of having 360-degree coverage is useful, but in order to fully maximize its reach, it's best for it to be placed in a centralized area. If it's placed in a corner, you're really missing out because you won't be finding much activity on the side of the wall. Ideally, this would be great if it were placed on the ceiling, seeing that it features a tripod mount on its underside to allow it to offer greater coverage.
However, the dated looking interface with the app is distracting by today's, but at least the core features are relatively accessible. We also appreciate how the app taps into your mobile device's GPS coordinates to auto-arm itself. Therefore, when you move outside your "home" coverage, it'll automatically arm – as well as disarm when you're back. Priced at $229.99, the Guardzilla 360 is priced higher than most of the popular smart security cameras on the market, but then again, few of them can match its wider coverage range.