Grumpy Cat "doesn't hate" the Samsung Galaxy Tab 4 Nook
19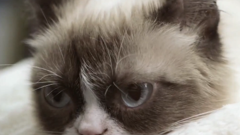 Later this month,
on August 20
, Samsung and Barnes & Noble will officially showcase their first tablet - the
Galaxy Tab 4 Nook
. Until then, Barnes & Noble posted a teaser video which, besides informing us that the tablet is coming soon, also provides reactions from "lucky customers" who got the chance to try the device.
As you'll see in the video embedded below, most customers describe the Galaxy Tab 4 Nook (or at least one of its mysterious features) as being amazing, awesome, gorgeous, and so on. Internet sensation Grumpy Cat makes a surprising appearance, too, saying that it "doesn't hate" the new tablet. If you know about Grumpy Cat, you're certainly aware that it pretty much hates everything, so not hating the Tab 4 Nook means that this should be a great device.
For who knows what reason, the Galaxy Tab 4 Nook teaser resembles the one that
Amazon released
before announcing its Fire phone. We're not sure if Barnes & Noble and Samsung want to mock Amazon with their teaser, or if this is just a coincidence. Either way, the Galaxy Tab 4 Nook seems to be based on the
Samsung Galaxy Tab 4 7.0
, adding a "valuable Nook reading experience" to it.
Are you looking forward to seeing what a Samsung Nook tablet can offer?