Gresso's new "Made in the USA" Titanium iPhone case collection lets you honor your favorite US president
14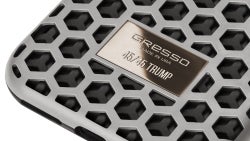 On the eve of President's Day Weekend, luxury smartphone and accessories maker Gresso debuted the Magnum 45 limited collection of titanium iPhone cases which pay tribute to all U.S. Presidents. It includes 45 pieces that bear the name of each of the 45 presidents in chronological order. The first case is named in honor of George Washington, while the final piece honors Donald Trump. Every case stands for its own president, and once it gets selected for pre-order, it won't be available for additional orders.
Cases from the Magnum 45 collection are comprised of two parts. The first piece is an interior cover, made of flexible and highly resistant TPU. The material creates a malleable barrier around the phone, absorbing shock and other forms of potential damage. The second piece is the outer shell, made of grade-5 titanium that outperforms both aluminum and steel in terms of strength and durability. The outcome is garnished with a signature insert, crafted from 18k yellow gold and engraved with the presidents' name and number.
Thanks to this construction, the cases can withstands loads of up to 551 lb. (250kg), drops from up to 6ft. (2m) high, and have 0.07in (2mm) barrier lip extensions to shield the iPhone's screen from shattering. Each model can take up to 8 hours to assemble and has a starting cost of $795. The cases are also notable for being Gresso's first US-made products. The collection will serve as the brand's initial manufacturing test in South Florida.
On the first day of sales, Gresso received 3 requests for pre-orders from the United States for George Washington and Abraham Lincoln, as well as one pre-order for Barack Obama. Meanwhile, Russia checked in with 10 pre-orders for the Donald Trump case. Gresso will continue to accept requests for all Presidents until orders are finalized.